British Columbia's Best Take on Findlay Prep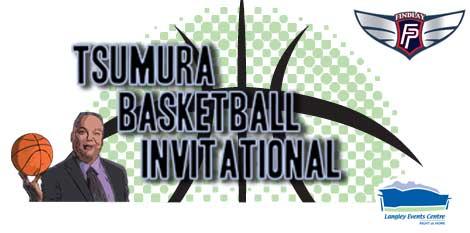 The Tsumura Basketball Invitational is back at Langley Events Centre–the same site where Walnut Grove secondary was crowned provincial champion last March in front of a packed house.
TBI, an annual high school season tip-off event, hosted American power house Findlay Prep last year, that saw the Pilots cruise to two easy victories over the eventual BC champion (Walnut Grove) and White Rock Christian Academy.
This time around, the province's top players have been selected and grouped into two teams, that will take on Findlay Prep this weekend.
The Pilots have had a history of recruiting Canadian talent as alumni include Cory Joseph, Tristan Thompson, Myck Kabongo and Anthony Bennett, to name a few. On the 2013-2014 roster, Findlay Prep features three players from Ontario.
TBI Roster #1
Coaches: Mike McKay (Tamanawis) and Rich Ralston (WJ Mouat)
NAME                                                                   SCHOOL                                
Sukh Bains                                                      Tamanawis
Sukhman Sandhu                                           Tamanawis
Tristan Etienne                                                WJ Mouat
Corey Hauck                                                   WJ Mouat
Denver Sparks-Guest                                     Gleneagle
Tarik Scott                                                       Gleneagle
Grant Galbraith                                               Gleneagle
Mindy Minhas                                                  Sir Winston Churchill
Jermaine Haley                                               Burnaby South
Taylor Smith                                                    Burnaby South
Martin Bogajev                                                Burnaby South
TBI Roster #2
Coaches: George Bergen (Walnut Grove), Lloyd Scrubb (Vancouver College).
NAME                                                                   SCHOOL                              
Jadon Cohee                                                       Walnut Grove
Tyler Anderson                                                 Walnut Grove
Hayden Lejeune                                               Sardis
Eric Rogers                                                       Sardis
Ryan Cowley                                                    Delta Secondary
Elijah Campbell-Axson                                     Vancouver College
Dean Johnston                                                 BC Christian Academy
Kosia Cauw                                                      BC Christian Academy
Adam Karmali                                                   Handsworth
Graham Smith                                                  Pitt Meadows
Taylor Brown                                                    Holy Cross
Jomari Reyes                                                   Terry Fox
TBI Full Schedule:
Saturday, November 30
3:30pm                                 CIS, TWU women vs UVIC
5:30pm                                 CIS, TWU men vs UVIC
7:30pm                                 Senior Boys, Findlay Prep vs Select Team 1
Sunday, December 1
11:00am                               Senior Girls, Riverside vs MEI
12:30pm                               Senior Girls, Argyle vs WJ Mouat
2:00pm                                 Senior Girls, South Kamloops vs Holy Cross
3:30pm                                 Senior Girls, Brookswood vs Oak Bay
5:00pm                              Senior Boys, Findlay Prep vs Select Team 2
6:30pm                                 Senior Boys, WJ Moaut vs. Tamanawis