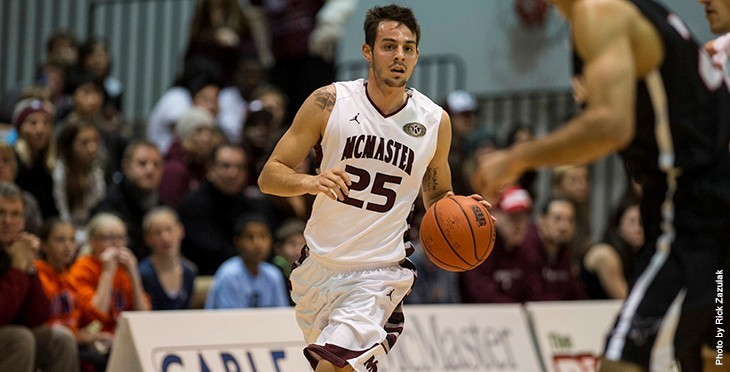 No Style Points, Just a Win for McMaster against York
TORONTO—The McMaster Marauders picked up their fifth win of the season, against three losses, in defeating the York Lions 78-72 on Nov. 23 at the Tait McKenzie Centre.
It wasn't always pretty for McMaster, but the CIS doesn't hand out style points. Only Ws.
"For us, it's more about being able to make the plays we have to make to win," Marauders head coach Amos Connolly said, "not necessarily the artistic value of the win."
Taylor Black secured the win for McMaster when he followed his own miss from the three-point line with an emphatic dunk. With only seven seconds to play at that point, the score was 74-70 for McMaster and surely the pro-York home crowd would have erupted had the Lions secured the rebound. Black went for the surest two points possible, a dunk. "I saw an opportunity and an open lane," the fourth-year player said. "You've got to capitalize. Regardless of if you want to take some time off, if you have an open two then you take it."
And that two, really, was as open as any shot will ever be.
After the game, both coaches preached the key role that turnovers played down the stretch. As in, a turnover from McMaster's Leon Alexander that led to a made jump shot from York big man Nick Tufegdzich to tie the game at 62 apiece.
As in, a turnover from York's Ryan Ejim that gave McMaster another possession, which eventually led to the Black dunk to clinch the game. "We hit shots, we crashed the boards properly," Black said. "They put the pressure on us in the fourth quarter, and we almost fell to it. They're a great team."
Turnovers hurt both teams down the stretch, and so did they at the beginning.
The first quarter had a bit of sloppy play, but York and McMaster traded baskets. Down 10-8, the Marauders closed the quarter on an 11-3 run and led 19-13 after the first 10 minutes of play.
York head coach Tom Oliveri was without starters Daniel Tulloch (i.e. concussion), Raheem Isaac (i.e. knee) and captain Aaron Rados (i.e. ankle) against McMaster, and those injuries left other Lions players scrambling and having to adjust to new roles and new positions. One of them was third-year Richard Iheadindu.
"We've asked a lot of (Iheadindu)," Oliveri said. "One of the things he's learning to adapt to is having a shooter's scoring mentality to being a point guard, maybe in the same possession."
Another was third-year Ryan Ejim, who notably scored 10 of York's 15 points in the second quarter, including the last six. "(Ejim) is slowly becoming an integral part of our team," Oliveri said. "He's for the first time in his career becoming a key guy on a team on different ends of the floor…Last night (against Brock) he carried us and tonight he carried us."
At the half, McMaster was up 36-28 after having cut down on the turnovers (i.e. only two compared to five) and hitting shots at a better clip. The key difference in this game may have been team depth for the Marauders. On just about any night, any McMaster player can contribute—and that's tough to prepare for.
McMaster added a point to its lead, 58-49, after the third quarter when fifth-year Nathan Pelech hit a three-point shot from somewhere on the downtown, to beat the buzzer. "We're playing against a very experienced team," Oliveri said, "that can go nine or 10 (players) deep."
In the past two weeks, Connolly has learned the hard way that the OUA has many great scorers, with Philip Scrubb scoring 44 and Johnny Berhanemeskel pouring in 38 in back-to-back home losses against Carleton and Ottawa a week ago.
Against York, the task was to contain third-year Ryan Ejim. And in the first quarter, Connolly's team did just that—Ejim went scoreless. Well, he finished the game with 27 points. "They have players. Ejim is good," Connolly said. "He bullies his way in, and he can score over guys."
But the Lions only went down roaring. They fed off the boisterous crowd to open the fourth quarter on a 13-4 run and tie it 62-62 on a Tufegdzich basket. Though York took its first lead since 10-8 in the first quarter at 68-67 after an Ejim basket, it's McMaster who executed just a tiny bit better down the stretch.
And they won 78-72.
Connolly praised third-year Adam Presutti. "I'm happy he hit those free throws down the stretch," he said, referring to the final two points of the game. "For his confidence, that's really important."
Offensively, fourth-year Taylor Black led the way with 13 points for McMaster. He was far from alone, however, with no fewer than six other Marauders scoring at least 8 points.
It was a different story for the Lions. With so many injuries to so many key players, Oliveri has had to rely on a few key guys. Ejim, with a game-high 27 points, led the way while Iheadindu and Tufegdzich, with 14 and 13 respectively, also scored in double figures.
The cross-division part of the 2013-2014 OUA season is now over, as each team will prepare to face their division rivals. McMaster first heads home, where they will host the Guelph Gryphons on Nov. 27. Next after that is an away game against the Western Mustangs on Nov. 30. The former tips off at 8 p.m. while the latter does so at 3 p.m.
"As we learn, we're winning close games," Connolly said.
Next for the Lions is a home game against the Queen's Gaels. That contest is set for 8 p.m. on Nov. 29. "We're both tied at 5-3," Oliveri said. "And then we've got the toughest division in the country."
TOP PERFORMERS
McMaster
Taylor Black: 13 points, 6 rebounds, 3 assists, 2 blocks
Aaron Redpath: 10 points, 6 rebounds, 3 assists, 1 steal
York
Ryan Ejim: 27 points, 7 rebounds, 2 assists, 1 steal, 1 block
Richard Iheadindu: 14 points, 4 rebounds, 1 assist, 1 steal
Follow Charles Blouin-Gascon on Twitter @RealCBG & NPH @Northpolehoops