Canadians in NBA: Tristan Thompson Shines Again, Kelly Olynyk Gets the Start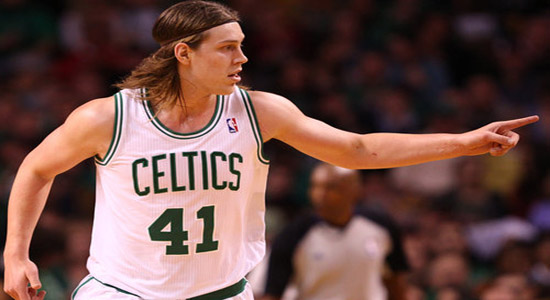 Saturday Nov. 9 was an important day for Canadians in the NBA. Kelly Olynyk made his debut as a starting centre in the Boston Celtics' 111-110 upset win over the Miami Heat. For anyone who missed that game, click here for the highlights and to watch Jeff Green's unbelievable game winning shot with 0.06 seconds left in the fourth quarter.
Meanwhile, Tristan Thompson continues to consolidate his role as one of the best, young power forwards in the league, putting up another big game against the Philadelphia 76'ers. North Pole Hoops continues its coverage of Canadians in the NBA.
Tristan Thompson and Anthony Bennett
The Cavaliers beat the Philadelphia 76'ers 127-125 in double overtime Saturday night, and yet again, Tristan Thompson was one of the stars for the Cavs. It's been three years now in the NBA for Thompson, and if he continues this kind of play, he might be looking at an all-star appearance in the near future. Thompson picked up his fourth double-double in only seven games this season, scoring 19 points and grabbing 10 boards-including six on the offensive glass. Thompson did a little bit of everything, going 6-10 from the field, 7-8 from the charity stripe while blocking two shots and getting one steal for good measure. Thompson once again led all Cavs players in time on the court with 48:29 in the double overtime game.
Anthony Bennett
Anthony Bennett saw just over nine minutes on the court during the Cavs' win over the 76'ers. He did not score, only attempting one field goal, while grabbing one rebound. Bennett had been nursing a sore shoulder since Friday night's game, which was also against the 76'ers. The problem carried over to Saturday, where he once again played limited minutes as a result. The struggles continue for the rookie who is still working to get back into shape after missing the summer league and pre-season rehabilitating from shoulder surgery.
Kelly Olynyk
The aforementioned Kelly Olynyk made his first ever start at the 5-spot in Boston's shocking win over the Heat Saturday night. Against one of the weaker frontcourts in the NBA, Olynyk scored seven points from 3-9 shooting, including one three-pointer. He grabbed eight rebounds while also blocking a shot in his 22:45 on the court. In what is becoming a worrying trend for Celtics coach Brad Stevens, Olynyk committed five fouls against the Heat. This is the third time the Gonzaga product has picked up five fouls in a game this season. Even though Stevens is showing more faith in the rookie big man by starting him at centre, Olynyk will not be able to increase his average of 22:11 MPG if he continues getting himself into foul trouble.
Andrew Nicholson
It wasn't Andrew Nicholson's best game of the year, but he still put up a solid effort in the Orlando Magic's 104-94 loss to the Atlanta Hawks. Nicholson scored 13 points on 5-9 shooting, while also going 3-5 from the free throw line. He also picked up six rebounds while committing four fouls in 25:31. Nicholson is now averaging 12.1 points and 7.4 rebounds a game, carving out his niche as the sixth man for the Magic.
Samuel Dalembert
The Mavericks won on Saturday night 94-83 over the Milwaukee Bucks. Samuel Dalembert played another quiet, yet effective game, scoring six points and grabbing six boards. He also blocked two shots in just over 26 minutes on the court.
Looking ahead
It might be a quiet Sunday in the NBA for Canadian players. Cory Joseph and Robert Sacre have been spending a lot of time on the bench for the San Antonio Spurs and Los Angeles Lakers respectively. Meanwhile, Steve Nash will look to get back into action against the Minnesota Timberwolves after coach Mike D'Antoni sat him on Friday night to get Nash some extra rest.
As always, North Pole Hoops will have you covered on how each Canadian performs on Sunday, Nov. 10.