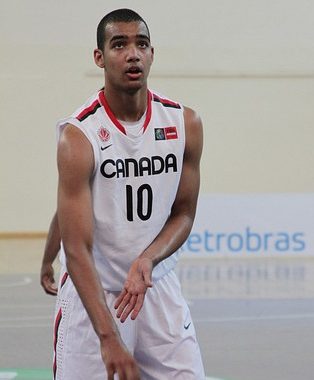 Trey Lyles Commits to Kentucky – NPH #1-Ranked Canadian Prospect off the Board
Trey Lyles has committed to Kentucky.
The 6'10 Canadian forward, originally from Saskatoon, Saskatchewan is currently in his senior year at Arsenal Technical High School in Indiana.
Lyles played for the Canadian junior national team over the summer, where he averaged 20 points and 10 rebounds for the red and white, during the FIBA world championships.
Speaking on the plethora of talent coming from the north, Lyles was proud of the impact that he, and the likes of Anthony Bennett, Andrew Wiggins, Tyler Ennis and others are having on the younger generation within Canada.
"We are setting the standards for our country," Lyles told local reporters, from Indiana.
Trey Lyles is NPH #1-ranked Canadian prospect in the class of 2014.
NPH Evaluation from Canadian Junior National Team Camp
Lyles is extremely skilled at his size and is an instant match up problem for opposing bigs. He has the ability to hit the three-ball, mid range and even showed a baseline fade away. Lyles' intelligence translates on the floor as he makes good decisions, whether it is passing the ball, remaining patient defensively or picking his spots on offense. The versatility of this prospect is what is most appealing.