Canadians in NBA: Andrew Nicholson Leads Orlando Despite Limited Minutes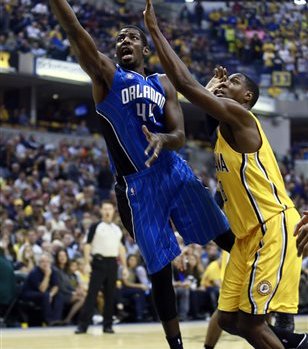 As the 2013-2014 season begins, North Pole Hoops will continue coverage and track Canadians in the NBA, including third-year forward Tristan Thompson, and Canada's first ever #1 overall draft pick Anthony Bennett on the Cleveland Cavaliers.
We'll also be looking at rookie Kelly Olynyk, who is trying to become a household name with the rebuilding Boston Celtics. In San Antonio, Cory Joseph will attempt to solidify his role as the backup to Tony Parker. Meanwhile on last year's worst team, Mississauga, Ont. native Andrew Nicholson will be battling to prove he is a NBA starter.  That's where we start this season's coverage of NBA Canadians.
Andrew Nicholson
Andrew Nicholson came off the bench for Orlando, in this first game of the NBA season. Nicholson led all Magic scorers with 18 points as they fell to the Indiana Pacers 97-87.
All of the forward's points were scored in the first half, capped by an impressive second quarter where Nicholson shot 5-5 from the floor including two treys and a nice spin move past two Pacers defenders on his way to a layup.
The St. Bonaventure product finished his first game of the season playing a total of 19:17, with four rebounds, two assists, one steal and one turnover. Like many young players, foul trouble (four fouls) has been an issue for Nicholson throughout his young career.
In this particular game, his minutes were limited in the second half (sitting entire third quarter) after a sizzling start.
It will be something to keep an eye on during his second year in the NBA.
Looking forward
It's a busy Wednesday (Oct. 30) night in the NBA with 14 games on the docket.  Anthony Bennett will make his NBA regular-season debut alongside Tristan Thompson, as the Cavs begin their 2013/2014 campaign against Kevin Garnett, Paul Pierce and the Brooklyn Nets. Kelly Olynyk will also make his debut as the Celtics and Raptors kick-off their respective seasons from the Air Canada Centre in Toronto.  Cory Joseph and the San Antonio Spurs tip-off against the Memphis Grizzlies as well, while the Orlando Magic complete a back-to-back as they travel to the Target Centre to play the Minnesota Timberwolves.