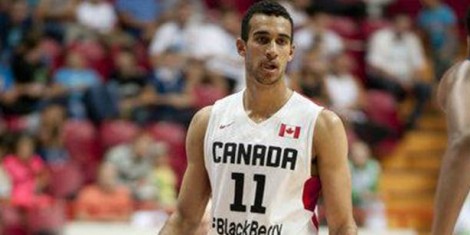 Phil Scrubb, Carleton Ravens Torch Wisconsin, Remain Undefeated Against NCAA Opponents
OTTAWA,ON–The Carleton Ravens are now 3-0 against NCAA competition after defeating Wisconsin (BIG 10) 95-82 on Wednesday night in Ottawa. Phil Scrubb scorched the badgers for a game-high of 30 points and 12 assists, while Tyson Hinz registered 25 points and 10 rebounds.
It was the first time in three years that Wisconsin gave up at least 90 points, with Ohio State being the last to do so, posting 93 points back in 2011.
Scrubb shot an incredible 12 of 21 from the field (3/6 3P). He was recently cut from Team Canada's senior team after a stellar summer with the University national team. This performance is now the second time that Scrubb puts up 30+ on a high-major NCAA program, previously recording 32 against Villanova [BIG EAST].
Hinz was no slouch either, shooting 9 of 19 from the field. Kevin Churchill also notched double figures for CU, putting up 12 points.
Wisconsin was lead by Sam Dekker's 28 points and seven rebounds. Traevon Jackon added 19 points.
Prior to Wisconsin, the Ravens defeated Towson (67-41) and TCU (77-51) earlier this month.
The defending CIS national champions will now take on their biggest test yet, when they face Syracuse on Friday at the Canadian Tire Centre, who feature stand out Canadian point guard Tyler Ennis.