NPH Poll: Who is The Best Canadian High School Basketball Player of All-Time?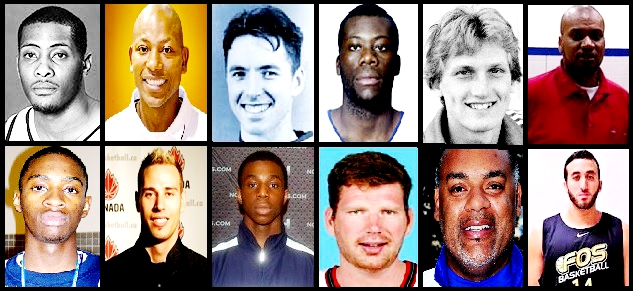 Follow #NPH on Twitter @NorthPoleHoops for all your Canadian basketball action!
Despite popular belief, Canada has produced high level basketball talent for decades; the difference in present time is the level of nurture our young student-athletes receive today (Development, EXPOSURE , competition).
The recent surge of Canadian basketball, that some are referring to as "The Golden Era" has camouflaged the great talent of the past, making it "The Lost Generation" that today's youth are simply unaware of.
The easy answer to the following question would be Andrew Wiggins, given his dominance in this era.
But how about generations of the past? If you ask 80's and 90's hoop heads, the name that continuously comes up is Phil "Dr. Dix" Dixon. An assassin on the floor that could not be stopped from putting the ball in the basket.
At the same token, there have been countless players that revolutionized the game in one way or another, and through extensive research across the Canadian basketball community, here is what we have come up with.
It is important to note that we are strictly considering dominance of high school careers, and not college. The following is a solid list of candidates that left their imprint.
[youtube]BdfkSCwJ2lg[/youtube]
Phil Dixon / (Bathurst Heights, Toronto) – Utah
Phil Dixon was an absolute nightmare on the high school basketball scene, averaging 40 points per game in his senior year. Fifteen years later, in 2003, he won the title "King of Toronto" and then "King of Canada" in Nike's first one-on-one "Battlegrounds" championship.
Andrew Wiggins / (Huntington, West Virginia) – Kansas
The hottest name on the basketball scene right now; captured an OFSAA title as an underclassmen, making his mark in Canada. To follow up, he secured every major individual award in the U.S including Gatorade Athlete of The Year, Naismith Player of the Year,  Mr. Basketball USA, and ranked #1 high school player and prospect by every major media outlet.
Steve Nash / (St. Michael's, Victoria) – Santa Clara
Averaged a double-double on a dominant St. Michael's team that won the provincial championship. St Michael's defeated all their opponents by 20+. As we flip to the next chapter, kid Canada was born.
[youtube]nqDh2Ng4nAA[/youtube]
Denham Brown / (Bathurst Heights-West Hill, Toronto) – UConn
Brown owns 111 points of dominance on the high school scene, the amount he scored for West Hill in 2002 when he made waves in the amateur basketball world. Prior to his final year, Brown averaged 30 PPG in his junior season.
Leo Rautins / (St Mike's, Toronto) – Minnesota / Syracuse
After somehow being cut from the provincial team, Rautins made the national team as a tenth grader! He Started for Team Canada and averaged approximately 17 PPG in 1977; a ground-breaking and unbelievable feat that is yet to be matched. His versatility at the high school level was rare; at 6'8 being able to handle the ball, pass and shoot…he could do it all.
Bobby Allen / (Morning Star, Brampton) – Evansville/ Texas Pan American 
An easy 30 points per game guy, scored at will and was an electrifying dunker. When you look at scoring in the early 90's,  it was Phil and Bobby Allen.
Wayne Yearwood / (Dawson, Montreal) – West Virginia
The best player in the early history of CEGEP basketball, Yearwood was a 6-7 wing with strength, athleticism, three-point shooting ability and a devastating post game. He led Dawson College to the 1983 CCAA National Championship, grabbing tournament MVP honours before moving on to star for the University of West Virginia, Team Canada and European pro teams.
Todd McCullough / (Shaftesbury, Winnipeg) – Washington 
A dunking ban in MacCulloch's high-school league turned out to be a blessing, helping the seven-foot redhead develop a soft touch and footwork that belied his height and mammoth frame. The two-time Manitoba high school champion became just the third player from his province to earn a D-I scholarship, dominating the paint at the University of Washington and starting a promising NBA career cut short by a neuromuscular disorder.
Carl English / (Fatima Academy-St Thomas Aquinas, Newfoundland) – Hawaii
As a ninth grader, English Was the best player in the senior league, which included university players (Memorial). English averaged an unbelievable 50 PPG, before transferring to St Thomas Aquinas in Ontario for higher level competition.
Maurice Joseph (Champlain St-Lambert, Montreal) – Michigan St/ Vermont
Older brother of Kris Joseph, Champlain St Lambert, considered one of the top preps (2000-2009)
First and only CEGEP player to ever appear in American scouting service (Scout.com)
NBA Top 100 Camp, Mr hustle award winner, 2005
Jamaal Magloire (Eastern Commerce, Toronto) – Kentucky
6'11 with aggression and anger. Magloire's phenomenal high school career led him to be the most highly recruited Canadian basketball prospect of his generation.
Mohamed Hachad  (Champlain Saint-Lambert, Saint-Lambert, QC) – Northwestern
One of the first superstars from John Dangelas's Cavaliers prep powerhouse, this 6-5 guard combined size and athleticism with a small man's quickness and creativity off the bounce, embarrassing CEGEP opponents and garnering high-major offers. Hachad went on to become the first Canadian guard to average double-figure scoring in the Big Ten, at Northwestern.
[youtube]yXMzt72YYfo[/youtube]
OTHER
Canada has produced an endless amount of high level talent, and as a result,  this list can be extended wide. If you feel there is a player that NEEDS to be mentioned among the crop, we want to know…who and why? Remember, the names mentioned must be DOMINANT on the high school scene.
[poll id="22″]