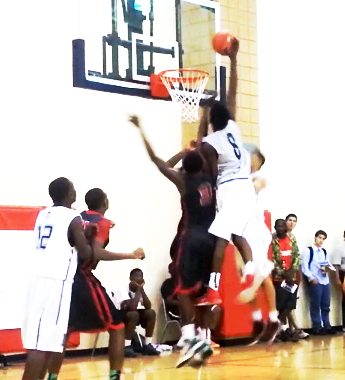 Caribana Classic Tips Off, CIA Bounce Builds Family Environment
Brampton, Ontario – A herd of wide-eyed prospects moved close together at the centre of the courts and huddled up. Roughly 140 young basketball players of varying ages, sizes and skill sets were brought together by CIA Bounce and given the opportunity to prove themselves in front of a cast of college coaches.
In other words, the Caribana Classic has tipped off.
The ethos of competing for scholarships by its nature breeds individuality; everybody wants to shine and be noticed. It's a balancing act that these players are used to – they must excel individually to make it to the next level, but they must also utilize the team dynamic to succeed at all levels.
With the Caribana Classic held this year at Brampton Soccer Centre, players have a chance to team up and compete with and against athletes they have never met before.
On the other hand, some players are familiar with each other, and it didn't take long for the camaraderie to be on full display.
"When we play together it's like a family in your team," said 2015 forward Dantai St. Louis. "It's not an individual sport, there's no "I" in team, and we get that mentality from the game and family from CIA Bounce."
Trying to learn how to maintain that balance isn't easy but the majority of these players have been brought up within a system of brotherhood and togetherness.
"Family is the best way to sum it up," said coach Larry Blunt. "It's really truly a unique family to be a part of and I'm thankful to be a part of it."
Blunt only recently became involved with the program after coaching in the NCAA for almost a decade and moving to Canada to coach pro basketball with the NBL Canada last season, and his experiences thus far have exceeded his expectations.
"When I got here I didn't know what I was getting into with the family feel, the brotherhood. Here it's like one person's mom is another person's mom, one person's dad is another person's dad. It's truly a village that helps to produce and raise not only basketball players, but people. It's really unbelievable."
Tony McIntyre is the founder and owner of CIA Bounce and believes the incorporation of family is vital to the success of his operations.
"You can't just put a team on the floor that doesn't believe in a common goal, you can't have coaches who aren't shooting for the same goal. I really don't think anything good can come from a bunch of individuals, you've got to really foster that family environment and make the kids live it and be it."
It was refreshing to see program alumni return to support their peers and aspiring prospects. Andrew Wiggins, for example, dropped by the gym today to see his high school team mate Montaque Gill-Caesar, among other former team mates.
"When a guy has come through the circuit, no matter the level he's on, when we're in the same city he'll stop what he's doing and come hang out and get a chance to work with the 13 and 14-year-olds who look up to them and those guys continue to give back to the process," said coach Blunt.
The process is ongoing and CIA Bounce has expanded to help develop players starting at a younger age, something McIntyre hopes will be even better than those who have already come through the program.
"I don't want to take all the credit for it, but any kid that gets a scholarship out of it and goes [to the NCAA] you've got to cheer for them," said McIntyre. "They're Canadian and hopefully everybody in Canada has a part in all these kids' development it shouldn't be just one program, it should be everyone working together to make sure these kids get the best opportunity."
Even CIA Bounce refuses to act as an individual entity, preaching family with all the other developmental programs in the country. If young Canadian ball-players are going to shine it won't be done through individual successes.
On the contrary, it will be through unity.