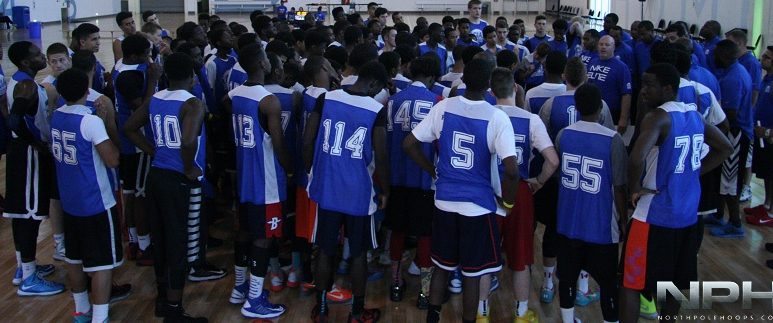 Caribana Classic: Who Stood Out? Usual Suspects, The New Guys & The Next Generation
BRAMPTON, ON–The final day of the NCAA live period came to a close with college coaches making their way up to Brampton, Ontario for the Caribana Classic to track some familiar names from the circuit, along with identifying underrated prospects in the process.
After starting the month of July in the nation's capital for the NPH Ottawa Showcase, I then made my first trip South to Augusta, Georgia for the Nike Peach Jam, where I was able to track many of the major prospects that were in attendance in Brampton, as they played for the CIA Bounce 16's team.
From Peach Jam, I then moved further south, to Orlando, Florida for the AAU Super Showcase, where there were over 10 Canadian teams participating through various age groups.
Through my travels, the name of the game is tracking and discovering; mission accomplished, with a very similar objective at Caribana Classic.
[youtube]SGfwwNbFtlg[/youtube]
Usual Suspects
For the most part, the 'big dogs' looked like they were gassed out from their AAU travels throughout the month of July. It's been a gruelling time period for athletes with travel and games. With that being said, I thought Jamal Murray was the most effective, despite being banged up. The 6'3 Murray is tough as nails and elected to guard 6'8 Chris Egi in the post. Murray is arguably the best looking prospect in the gym regardless of age, and some of the high major programs know it.
Jamal Murray – 2016
Chris Egi – 2015
Montaque Gill-Caesar – 2015
Dillon Brooks – 2015
Jalen Poyser – 2015
Stepping Up
There was no shortage of high level guards at Caribana Classic. Lets start with Kimbal 'Kimbo Slice" Mackenzie, as I would call him. Mackenzie is the definition of a floor general; poise, leadership and precision. The 6'1 guard caught fire in the Top 40 game (should've been in Top 20 IMO) and displayed a smooth shooting stroke both on the stand still, as well as on the run.
Long had many coaches inquiring, and for good reason. As I've mentioned before, intangibles i what he provides. On top of that, he's a producer. Simply put, Eli Long is a playmaker.
Miller is a tough kid, one of the top perimeter defenders in the country, is a positive on the floor, makes winning plays.
Koby McEwan is a killer. That is all.
Matt Trpcic shot the ball with great efficiency, seeing him miss only one shot (from what I watched of him). High I.Q player with a great work ethic.
Kimbal Mackenzie – 2015
Elijah Long – 2015

Juwan Miller – 2014

Koby McEwan – 2016
Matt Trpcic – 2015
Nevell Provo – 2015
Jalen Morgan – 2015
Alex Thompson – 2012
The New Guys
Jermaine Hall has officially made his mark. The 6'1 combo guard displayed a nice scoring package, nailing step -back jumpers, spot up and shot it with great efficiency all weekend. "Who is that?" were the words coming out of coaches mouths. My response? "That's a 'new' guy on the scene.
Devonte Bandoo is an extremely impressive guard we will be keeping tabs on. Great shooting stroke complimented high level athleticism.
Jermaine Hall – 2014
Tristan Coley – 2014

Devonte Bandoo – 2015

Ignas Slyka – 2016
Dantai St. Louis – 2015
The Next Generation
The following list of players is only scratching the surface of talent on the come up for future years. This crop is something to be very excited about, given that their physical make up, I.Q, explosiveness are at a whole new level. This is a new breed, and an excellent representation on the growth of the game. The following are some of the players that showed game, from the time I dedicated to catch the young guns.
Grant Audu – 2017
Jahvon Henry-Blair – 2017
Kascius Small Martin – 2017
Kajon Gordon-Stephens -2017
Trejuan Fearon – 2017
Simisola Shittu – 2018
Keshaun Saunders – 2018
Danilo Djuricic – 2018
Jonathan Kabongo – 2018

L'mar Greene – 2018