Team Canada Dominates United Arab Emirates 137-43 at FISU Summer Games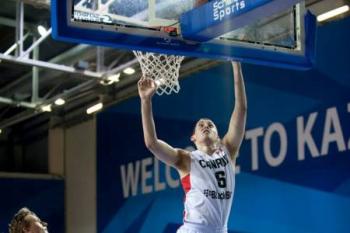 Kazan, Russia-Team Canada continues to serve notice that they are a team on a mission at the 2013 FISU Summer Games in Russia.
The United Arab Emirates were the latest victims to Canada's onslaught as the Canucks dismantled the UAE to the tune of 137-43.
Canada began the game on an 18-0 run and never really let the UAE into the game. The spread would grow to 40-points by halftime as Canada took a 67-27 lead into the break.
All 12 Team Canada members scored led by Brady Heslip, who continued his scoring prowess from a day earlier with 22 points.
Kyle Wiltjier matched Heslip's team-high with 22 points of his own.
"The first thing that we focus on is our defence and that really leads to easy baskets," said Wiltjer after the win. "We're an unselfish team. We have very talented players so we can all share the ball."
Jordan Bachynski recorded a double-double of 17 points and 12 rebounds, and Dwight Powell added 21 points in the victory.
Team Canada now moves to 2-0 in pool play and will get a day off before taking on Australia on July 10th 5:00 a.m. EST.
Full box score available here.