Red Hot Brady Heslip leads Canada to 84-69 win over Sweden at FISU games.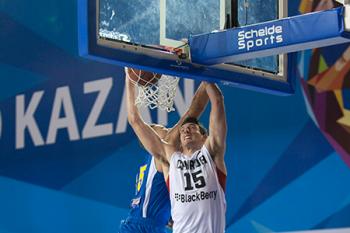 Kazan, Russia-Canada started out slow, but eventually regained the winning formula they had found that led them to an unbeaten record in pre-tournament play topping Sweden 84-69 in their first contest at the 2013 FISU Summer Games.
Sweden looked to make the game more competitive than most believed going into the matchup, but Brady Heslip's first of five three points in the game gave Canada an 11-10 lead. A lead they never relinquished.
Heslip led all scorers with 22 points, shooting 50% from the beyond the arc.
"When you start playing games again after a few weeks off, it's a little different," said Heslip. "But after the first quarter all the guys gelled back into it."
Stanford Forward Dwight Powell came one rebound shy of a double-double finishing the game with 16 points and nine rebounds. Gonzaga Guard Kevin Pangos added 12 points.
"We're trying to develop players and we need give them an opportunity to play and be on the court for five minute segments," explained head coach Jay Triano. "We also think that one of our advantages could be to wear teams down – we've got some depth in our country as far as basketball is concerned."
Chris Czerapowicz was the high man for Sweden netting 20 points.
Canada will play their second game in pool play on Monday against the United Arab Emirates (0-1). Tip off set for 12:30 p.m. ET.
Full game box score available here.
[youtube]http://www.youtube.com/watch?feature=player_embedded&v=wAph-uoFG0g[/youtube]