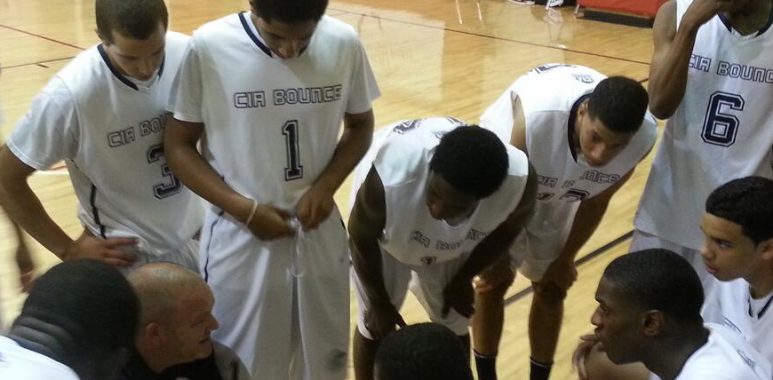 Eli Long, Montaque Gill-Caesar Spark CIA Bounce 16's Past Team Final
Follow Tariq_NPH & @NorthPoleHoops for all your #PeachJam Updates all week!
Intangibles.
You hear the word being used in the basketball scene quite often and there's a reason for that. Intangibles win games, and to open Peach Jam, CIA Bounce had just enough.
The first name that pops up when talking intangibles has to be Eli Long. The 5'10 lead guard came off the bench and had an instant impact on both ends of the floor. Active hands, team play and brought a boatload of energy for his squad, something they needed as Team Final controlled the first half.
"I watch J.R Smith come off the bench, he comes out strong and I know everyone is talented here, but I know I have to provide a spark to help out the team," Long told NPH in the post-game.
Eli, who is the younger brother of Naz Long (Iowa State), was able to create for himself and others; a treat to watch in transition but credits the strength of his teammates for his success.
"When you have shooters like Jamal, Teki and everyone on the perimeter, it make it easy for me to open up the floor. I'm a pass-first point guard, so when I see a look, I know they are going to hit."
Long had at least five steals and several more deflections, including the final strip to seal the game…this was after he drove the lane for the game-winning bucket.
Montaque Gill-Caesar lead the way offensively with a team-high 22 points. After starting slow feeling out the competition, Teki had it going in the second half nailing threes and leaking out for multiple fast-break dunks.
Gill-Caesar moves like former teammate Andrew Wiggins, and as noted by his coach, Teki has paid his dues, learning from the number one player in the world, and is set for a big year.
Looking forward to continue tracking MCG throughout the week, but a solid first game.
Other notables in game one were Dillon Brooks, Jamal Murray, Kimbal Mackenzie.
The team was without Chris Egi, who is coming off a sixth place finish with Team Canada at the world championships. Egi's absence was evident as CIA Bounce struggled to secure defensive rebounds for Team Final's second chance opportunities. Also, without the rim protector present, countless buckets were scored on easy penetration.
If the crew will have any chance at the Peach Jam gold, each player will need to step up defensively and gang rebound once shots go up. Long, and the rest of the team knows it.
"This was a wake up call for us…it's Peach Jam, you have to come out hard every game."