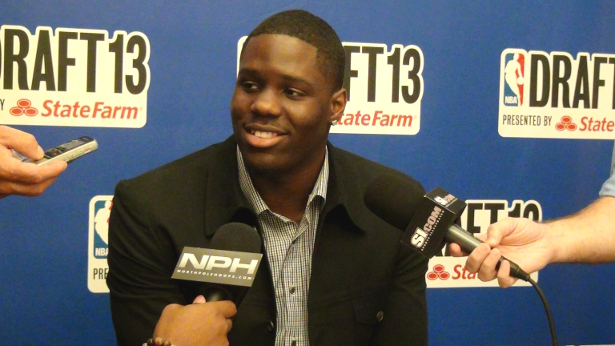 Anthony Bennett Makes Canadian Basketball History, Selected #1 Overall to Cleveland!
And the Cleveland Cavaliers select… Anthony Bennett
It's OFFICIAL. Anthony Bennett has shocked the world,  selected #1 overall to the Cleveland Cavaliers, becoming the first Canadian ever to be selected #1 in NBA history!
Thirty years ago, in his first NBA Draft as commissioner, David Stern called out Hakeem Olajuwan as the first pick to open up the 1984 NBA Draft. In his final NBA Draft as commissioner, Stern called out Bennett as the first pick in 2013.
Many jaws dropped when they heard commissioner David Stern call out Bennett. We, however expected the possibility in the closing of last night's piece on media day, giving credit to Bennett's versatility and upside.
Bennett joins fellow Canadian Tristan Thompson, who is coming off a productive and progressive sophomore season.
Bennett was lost for words in happiness.
"It's crazy. Made history. I can't really complain about that. It's just like a long-time dream that I had since I first started playing basketball, even though it was six or seven years ago. It's crazy. Next year with (Andrew) Wiggins, hopefully he does well at Kansas. I'm rooting for him, I'm pretty sure he'll get that No. 1 spot."
Many thought Wiggins would be the one to do it, but it looks like he will pull the REPEAT next season!
Looking into the future for the 2014 NBA Draft, there are two Canadian players that I can say will be guaranteed first rounders, those players being Kansas' Andrew Wiggins (likely #1 overall) and Michigan's Nik Stauskas. Wiggins' superstar talent speaks for itself and Stauskas' shooting ability will be the best in the draft. By that time we can expect him to be a more polished piece on the wing after a season of seeing him go to work off the bounce rather than spot up.
Canadian basketball is here to stay! This is an ENORMOUS VICTORY for a tight Canadian basketball community. All organizations that have put in so much work, Salute!
The future is bright.
[youtube]m2LPfuvfPVA[/youtube]