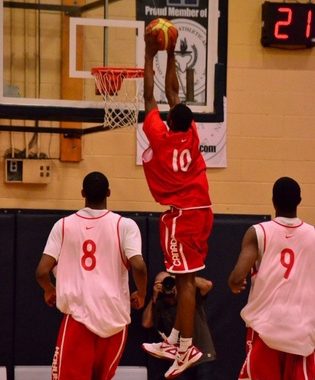 Junior Team Canada
Team Canada
Canadian Junior National Team Training Camp Roster Released
The Junior Men's National Team (JMNT) training camp will begin on June 9 with 22 talented athletes. The 10-day camp will be held at Ryerson University's Kerr Hall Gymnasium following the junior age-group open tryout on June 8. On June 11, JMNT hopefuls will be split into two groups to compete against one another in the 2013 edition of the Red and White intrasquad game.
Head coach Roy Rana will once again take the helm of the JMNT as it prepares for the competitive season ahead. The native of Toronto, Ont. will serve as the team's bench boss for the second consecutive season. He will be joined by assistants Jamie McNeilly and Scott Morrison.
Coach Rana will look to improve upon last summer's impressive third-place finish at the FIBA Americas U18 Championship for Men. "We have a tough task ahead of us, but I believe in the strength, ability and athleticism of the group that we have assembled. Last summer was an excellent learning experience for these young men. Now it's time to focus that growth with hard work and prepare for this summer".
Canada Basketball's assistant general manager and executive vice-president of the Senior Men's Program, Rowan Barrett, echoed the coach's sentiments. "These athletes have shown tremendous skill for their respective teams and in the past with the National Team program. We're very excitied that they are taking the next step in their development with this team."
Following training camp, the JMNT's first test will come in the form of a pair of exhibition games against two solid opponents: Brazil and the United States. The two tune-up contests will lead directly into this summer's FIBA U19 World Championship in the Czech Republic. The premiere competition for the U19 age-group will begin on June 27 and finish on July 7 where one team will be crowned world champions.
For additional information regarding the FIBA U19 World Championship, please visit the tournament's official site.
2013 Junior Men's National Team Training Camp Roster
| | | | |
| --- | --- | --- | --- |
| Name | Position | Height | Hometown |
| Matthew Atewe | Post | 6-9 | Brampton, Ont. |
| Manroop Clair | Guard | 6-2 | Vancouver, B.C. |
| Jabari Craig | Post | 6-10 | Toronto, Ont. |
| Joey De Cimon | Wing | 6-5 | Regina, Sask. |
| Chris Egi | Post | 6-8 | Markham, Ont. |
| Tyler Ennis | Guard | 6-2 | Brampton, Ont. |
| Justin Jackson | Wing | 6-6 | Ajax, Ont. |
| Miroslav Jaksic | Post | 6-9 | Windsor, Ont. |
| Kaza Keane | Guard | 6-2 | Ajax, Ont. |
| Trey Lyles | Post | 6-10 | Saskatoon, Sask. |
| Mikyle McIntosh | Wing | 6-6 | Pickering, Ont. |
| Conor Morgan | Wing | 6-8 | Victoria, B.C. |
| Duane Notice | Guard | 6-3 | Woodbridge, Ont. |
| Agunwa Okolie | Post/Wing | 6-8 | Ajax, Ont. |
| Emmanuel Owootoah | Guard | 5-10 | Toronto, Ont. |
| Marko Pirovic | Post | 6-7 | Bolton, Ont. |
| Xavier Rathan-Mayes | Wing | 6-4 | Scarborough, Ont. |
| Jamal Reynolds | Wing | 6-4 | Pickering, Ont. |
| Marial Shayok | Wing | 6-5 | Ottawa, Ont. |
| Denzell Taylor | Post | 6-7 | Brampton, Ont. |
| Andrew Wiggins | Wing | 6-7 | Concord, Ont. |
| Kevin Zabo | Guard | 6-1 | Gatineau, Que. |
2013 Junior Men's National Team Staff
| | |
| --- | --- |
| Name | Position |
| Roy Rana | Head Coach |
| Jamie McNeilly | Assistant Coach |
| Scott Morrison | Assistant Coach |
| Steve Konchalski | Mentor Coach |
| Jesse Young | Apprentice Coach |
| Mike Meeks | Guest Coach |
| Kirby Schepp | Guest Coach |
| Krisjon Vargas | Athletic Therapist |
| James DePoe | Team Manager |
| David Cox | Sports Psychologist |
| Pat Traynor | Stats & Analysis |
| Borko Popic | Stats & Analysis |
| Matt McDonald | Video Co-ordinator |
| John Philpott | Doctor |
| Mikeala Berza | Camp Assistant |