NPH BC Showcase Prospect List + Schedule Released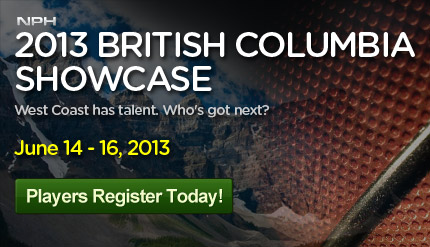 With two weeks left before the #NPHShowcase hits British Columbia, here are some of the players that have confirmed their spots. We are looking forward to tracking the progress of showcase alumni, while also discovering new talent to enter the NPH National Player Rankings.
Don't miss your opportunity to gain National exposure…sign up today!
Register Today
Cost: $130.00
NPH BC Showcase Prospect List
This list will continue to be updated within the next two weeks.
| | | | | |
| --- | --- | --- | --- | --- |
| Alex Jordache | 2014 | 6'4 | G | Claremont Secondary/ Basketball BC |
| Kevin Le | 2014 | 5'10 | SG | Templeton Secondary/ Drive |
| Keith Errington | 2014 | 6'0 | PG | Rutland |
| Jas Sahota | 2014 | 5'11 | PG | Princess Margaret |
| Jason Yao | 2015 | 6'4 | F | St. Johns |
| Filip Bozalo | 2013 | 6'2 | G | King George / All Ball |
| Corky Smirg | 2016 | 5'11 | PG | Byrne Creek/ VanCity |
| Michael Hale | 2014 | 6'3 | SF | Port Moody |
| David Kim | 2014 | 6'0 | SG | Port Moody |
| Hakeem Jefferson | 2015 | 6'2 | G | Claremont Secondary/ Capital City Hoop Stars |
| A. MOISES BLANDON | 2015 | 6'4 | F | Okanagan/ Jr Heat |
| Justin Huang | 2018 | 5'8 | SG | Vancouver College/ All Ball |
| Ethan Scott | 2016 | 6'3 | SG | St George's / Drive Elite |
| Vlad Mihiala | 2018 | 6'1 | SF | Run And Dunk |
| Matthew Kerc-Murchison | 2016 | 5'5 | PG | Yale |
| Matt Zukowski | 2013 | 6'2 | SG | L.V Rogers |
| Mohammad Karimirad | 2013 | 6'0 | G | Handsworth/ All Ball |
| Corey Hauck | 2014 | 5'10 | PG | W.J Mouat |
|  Izaiah Ugoalah | 2016 | 6'3 | PG | Sir Winston Churchill/ Drive |
| Mike Vander Werff | 2016 | 6'2 | C | Yale |
| Brenden Bailey | 2014 | 5'10 | PG | Gleneagle/ Drive |
| Tomas Fovenyi | 2016 | 5'7 | G | Fleetwood / Drive / BBC |
| Henry Maduabueke | 2014 | 6'6 | SF | Holy Cross |
| Stanley Maduabueke | 2014 | 6'4 | W | Holy Cross |
| Euland Chu | 2014 | 5'10 | SG | Magee / Drive |
| Bright Dododza | 2014 | 6'7 | PF | Holy Cross/ AthElite |
| Alfred Lee | 2013 | 5'6 | PG | Van Tech |
| Brandon Isaac | 2015 | 5'10 | SG | Clarence Fulton/ Fulton Maroons |
| Sanjay Dhand | 2015 | 5'10 | SG | Clarence Fulton/ KMBA Legends |
| Mankaran Toor | 2013 | 5'11 | G | Christian Faith HS |
| Justin Rudio | 2016 | 5'9 | SG | Lord Tweedsmuir/ Athelite |
| Adam Karmali | 2014 | 5'10 | PG | Handsworth/ Basketball BC |
| | | | | |
| --- | --- | --- | --- | --- |
| Sanam Klar | 2014 | 5'11 | PG |  Princess Margaret Secondary |
| Randy Johal | 2016 | 5'9 | PG | Tamanawis/ AthElite |
| Parm Bains | 2014 | 5'9 | PG | Tamanawis/ AthElite |
| Chris Loo | 2014 | 5'10 | PG | Templeton Secondary |
| | | | | |
| --- | --- | --- | --- | --- |
| Parmeet Matharu | 2014 | 5'11 | G | Enver Creek/ 3D Basketball |
| Terrell Jana | 2016 | 5'10 | PG | St Thomas More Collegiate/ Team BC |
| Dayton DePradine | 2016 | 5'4 | PG | Walnut Grove/ AthElite |
| Malik Holmes | 2016 | 6'2 | SG | Byrne Creek/ VanCity |
| Jason Yang | 2016 | 5'11 | SG | St. George's / Drive |
| Issam Antar | 2016 | 5'9 | G | Point Grey / Drive |
| Clement Isanganino | 2014 | 6'2 | SG | Sutherland Secondary / Van City |
| | | | | |
| --- | --- | --- | --- | --- |
| Alex Coote | 2014 | 6'2 | PG | West Point Grey/ Drive |
| Tristen MacGowan | 2015 | 5'9 | SF | Yale |
| | | | | |
| --- | --- | --- | --- | --- |
| Gurk Klar | 2016 | 5'10 | G | St Margarets |
| Walter Yeung | 2016 | 6'1 | G | Vancouver College/ Force/Basketball BC |
| | | | | |
| --- | --- | --- | --- | --- |
| Jonathan Mikhlin | 2017 | 5'8 | SG | Richmond / Drive |
| Connor Mitchell | 2015 | 6'3 | SF | OKM/ UBCO |
| Karan Hundal | 2014 | 6'3 | SG | North Surrey |
| Mason Loewen | 2013 | 6'2 | G | Claremont/ Drive |
| Wesley Graham | 2016 | 6'1 | PG | St George's / All Ball |
| Karn Virk | 2016 | 6'3 | PG | Churchill/ Drive |
| Elamin Awadalla | 2014 | 5'10 | PG | Mount Douglas |
| David Ta | 2014 | 5'10 | G | Killarney / All Ball |

Schedule
June 14: 7PM-9PM
June 15: 11PM-5PM
June 16: 10AM-2PM