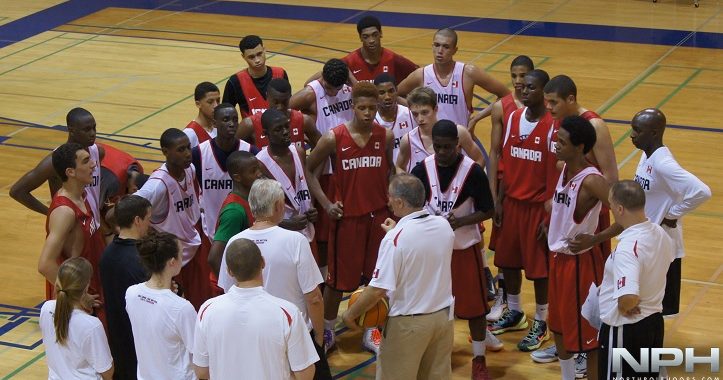 Cadet Team Canada
Team Canada
Cadet National Team Tryouts Have Kicked off…Tryout Roster Released
I walked into the gym last night in Toronto for Cadet National tryouts to a group of familiar faces; most from Ontario but also some from around the country. "Household names" such as Justin Jackson (Ajax, ON) and Jamal Murray (Kitchener, ON) were in attendance and out of towners included Jermaine Haley (British Columbia), Julian Roche (New Brunswick) Jerome Desrosiers (Quebec) Lindell Wigginton (Nova Scotia), along with a quartet from the nation's capital.
"You have Justin [Jackson] whose had that international experience as well as Jamal [Murray] so those two will probably be our leaders moving forward," said Head Coach Dave DeAveiro.
"A lot of raw talent here and athleticism…we're just trying to harness it and slow them down a little bit. It's going to be a difficult time selecting 12 athletes to represent Canada."
Difficult would be an understatement. With twelve roster spots, there will undoubtedly be some high level talent left out of the mix. In the meantime, the twenty or so players battling for these spots will have to do just that.
"Overall we're pleased, the effort level was tremendous…I think a lot of kids are still feeling their way through, not quite sure of themselves of what to do and what not to do," continued DeAveiro.
The one-on-one drills had great intensity as players were split up by position, while the coaching staff stressed floor spacing in the scrimmages.
"We're looking for kids who can shoot the ball, agile big guys that can run the floor, finish around the basket, and defend the basket."
Coach DeAveiro will be focusing on implementing their defence throughout the rest of the camp and building chemistry for the team on both ends of the floor.
"When you bring this talent together in one gym, they come from programs where they are 'the man'. It's getting these guys to trust each other, share the ball, support each other and play for each other…that will be the biggest project."
Team Canada hopefuls will have until next week to grow as one unit, before flying out to Maldonado, Uruguay for the FIBA Americas U16 Championship June 11-15.
"The most important thing is to qualify for the world championships next year and I  think we have the group to do this."
Highlighting this athletic group is arguably the most explosive player on this list in Marcus Ottey. Remember what he did at the NPH Platform?
[youtube vxMYHgQrhDQ]
2013 Cadet Men's National Team Tryout Roster
| | | | |
| --- | --- | --- | --- |
| Name | Position | Height | Hometown |
| Marcus Anderson | Guard | 6-1 | Brampton, Ont. |
| Jauquin Bennett Boire | Guard | 6-2 | Abbotsford, B.C. |
| Maxime Boursiquot | Forward | 6-4 | Ottawa, Ont. |
| Daniel Cummings | Forward | 6-5 | Scarborough, Ont. |
| Brandon Cyrus | Forward | 6-4 | Oakville, Ont. |
| Jerome Desrosiers | Forward | 6-6 | Montreal, Que. |
| Eddie Ekiyor | Forward | 6-8 | Ottawa, Ont. |
| Quinton Gray | Guard | 6-2 | Richmond Hill, Ont. |
| Jermaine Haley | Guard | 6-4 | Burnaby, B.C. |
| Kevin Hamlet | Forward | 6-6 | Scarborough, Ont. |
| Justin Jackson | Forward | 6-6 | Ajax, Ont. |
| Nelson Kaputo | Guard | 6-0 | Toronto, Ont. |
| Tyrell Leotaud | Forward | 6-5 | Ajax, Ont. |
| Jaques Lukusa | Guard | 5-11 | Ottawa, Ont. |
| Koby McEwen | Guard | 6-2 | Toronto, Ont. |
| Jamal Murray | Guard | 6-3 | Kitchener, Ont. |
| Nolan Narain | Centre | 6-9 | Hamilton, Ont. |
| Marcus Ottey | Guard | 6-1 | Ajax, Ont. |
| Tyler Plummer | Forward | 6-4 | Vaughan, Ont. |
| Julian Roche | Centre | 6-10 | Saint John, N.B. |
| Malick Turenne | Forward | 6-5 | Gatineau, Que. |
| Lindell Wigginton | Guard | 5-10 | Dartmouth, N.S. |
| Kalif Young | Forward | 6-7 | Toronto, Ont. |

2013 Cadet Men's National Team Staff
| | |
| --- | --- |
| Name | Position |
| Dave DeAveiro | Head Coach |
| Barnaby Craddock | Assistant Coach |
| Stephan Barrie | Assistant Coach |
| Darrell Glenn | Apprentice Coach |
| Peter Campbell | Mentor Coach |
| Mary Lalancette | Therapist |
| Chris Aim | Manager |
| Mark Leung | Doctor |