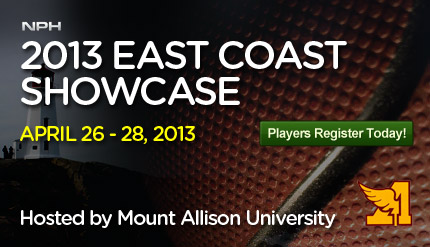 Prospect List Released for NPH East Coast Showcase at Mount Allison!
SACKVILLE, NB–With less than two weeks left before the first ever NPH Showcase takes place in New Brunswick at Mount Allison University April 26-28, we have compiled the list of confirmed players in the initial wave of the prospect list.
This list features several familiar names, including New Brunswick provincial team stand outs like Kyle Rogers, Stanley Mayambo and Jarred Stafford to name a few.
6'4 Wing Alfred Burgesson was the hidden gem in last year's event, and will be returning, following a solid year with Halifax Grammar.
NPH East Coast Showcase alumni Erik Nissen has recently committed to the University of Maine and will play NCAA basketball in the America East conference after having a great high school basketball career in New Brunswick. Nissen generated this evaluation following his participation in the NPH Showcase last year:
Nissen was extremely impressive and is looking like a big time prospect to keep your eyes on. He has a great combination of size, length and toughness. At this showcase, he was matched up against 6'9 F Mike Armstrong which allowed us to get a good indication of his skill set against a fellow big. He displayed good footwork and ability to finish strong at the basket, however must learn to protect the ball by keeping it high when making his move, as he was stripped by smaller guards on multiple occasions. Nissen certainly boosted his stock at the First Annual NPH East Coast Showcase.
"I would highly suggest going to this showcase," said Nissen. "It brings all the best players from around the maritime's to one location. The competition alone is worth it!"
Part of this trip is to identify and evaluate the top talent in attendance, however equally as important to NPH is helping grow the game in this region by inspiring and providing guidance to the next generation of players in Atlantic Canada.
For any questions, concerns or comments regarding the NPH Showcase, please email info@northpolehoops.com
NPH East Coast Showcase Schedule
April 26: 5-9 PM
April 27: 12- 8PM
April 28: 12-4 PM
Sign Up Today!
[contact-form-7 id="10467″ title="Contact form 1″]
NPH Showcase Prospect List
Confirmed Players in Bold
This is a pending list, and names will be added throughout the next three weeks.
| | | | | |
| --- | --- | --- | --- | --- |
| Jarred Stafford | 2015 | 5'11 | PG | Leo Hayes HS/ BNB |
| Stanley Mayambo | 2015 | 6'0 | PG | Fredericton HS |
| Dyrel Johnson | 2015 | 5'9 | PG | Halifax West |
| Ryan Gates | 2014 | 6'7 | PF | MRHS |
| Kyle Rogers | 2013 | 6'1 | PG | Sweat Academy |
| Stefan Miller | 2014 | 5'10 | G | Ecole du Carrefour |
| Terrence Brooks | 2015 | 5'7 | PG | Prince Andrew/ Eastside Wolves |
| Bradley Sanford | 2014 | 6'3 | PF | Kennebecasis Valley / Blue Storm |
| Jack Tilley | 2016 | 5'9 | PG | Kennebecasis Valley/ BNB-Blue Storm |
| Ethan O'Neil | 2015 | 6'4 | PF | Kennebecasis Valley |
| Travis Dorsey | 2014 | 5'11 | PG | Annapolis West Education Centre |
| Marcel Boudreau | 2014 | 6'0 | SG | Ecole secondaries de Par-en-Bas |
| Curtis Mullowney | 2014 | 6'6 | C | Gonzaga High School |
| Brandan Seagrave | 2013 | 6'11 | C | Harrison Trimble |
| Colby Stevens | 2014 | 6'1 | SG | Pugwash HS/ Pugwash Panthers |
| Andreas Foerster | 2015 | 6'1 | G | CEC/ BNB |
| Nathan Wentzell | 2016 | 5'10 | G | CPA/ Saint Margaret's Bay SLAM |
| Kenneth Levy | 2014 | 5'6 | PG | Forest Heights/ St Margaret's Bay |
| Stephen Wiles | 2015 | 6'1 | SG | Annapolis West Education Centre |
| Blake Thompson | 2016 | 5'11 | PG | Amherst Regional HS |
| Michael Hale | 2014 | 6'3 | SF | Port Moody |
| Zachary Middleton | 2015 | 6'0 | SG | Moncton HS |
| Colby Hicks | 2014 | 6'1 | SG | Oxford Regional Educational Centre |
| Mitchel Legatto | 2013 | 6'2 | G/F | Memorial Composite |
| Dan Maxwell | 2014 | 6'0 | G | Harrison Trimble |
| Ryley Robicheau | 2014 | 6'2 | W | Avonview HS |
| Matt Dixon | 2016 | 6'0 | SG | Riverview HS |
| Shema Gasana | 2014 | 6'1 | G | Cavalier De Lasalle |
| Donald Gibson | 2013 | 6'5 | PF | Life Christian Academy |
| Nate Newbold | 2014 | 6'1 | G | Sir Wilfred Laurier |
| Luke Nelson | 2016 | 6'2 | PG | Caledonia Regional High |
| | | | | |
| --- | --- | --- | --- | --- |
| Alfred Burgesson | 2015 | 6'4 | W | Halifax Grammar |
| | | | | |
| --- | --- | --- | --- | --- |
| Dan Luton | 2014 | 6'5 | F | Fredericton HS |
| | | | | |
| --- | --- | --- | --- | --- |
| Caleb Ryder | 2016 | 6'0 | G | Moncton/ BNB |
| Franz Heubach | 2014 | 6'1 | W | Annapolis West Education Centre |
| Mathiew Brubacher | 2013 | 5'10 | PG | Ecole L'Odyssee |
| Dyon Mason | 2014 | 6'1 | G | Sir Wilfred Laurier |
| Djibril Ngom | 2014 | 6'2 | SG | Oak Hilll Academy/ Sun Youth |
| | | | | |
| --- | --- | --- | --- | --- |
| Patrick Balaba | 2013 | 5'8 | G | Gloucester Wolverines |
| Jacob Wamboldt | 2014 | 6'2 | SF | Eastern Shore Dirstict High |
| Jesse Yule | 2016 | 6'2 | PF | Riverview HS |
| Ben Tait | 2015 | 5'11 | PG | KVHS |
| Charles Hart | 2015 | 5'9 | SG | Auburn/ Dartmouth Lakers |
| Kai Kraushar | 2015 | 6'1 | SG | Prince Andrew/ Eastside Wolves |
| Eli Kraushar | 2017 | 5'11 | SG | Caledonia Junior High/ Eastside Wolves |
| Daniel Claridge | 2016 | 6'4 | PF | Caledonia Junior High/ Eastside Wolves |
| Brendon Balcom | 2016 | 6'0 | SG | Shelburne Regional High/ Valley Heat |
| | | | | |
| --- | --- | --- | --- | --- |
| Myles Spence | 2016 | 5'10 | SG | West Hants Middle School |
| Jordan Reid | 2015 | 6'3 | SG | Pugwash District |
| | | | | |
| --- | --- | --- | --- | --- |
| Joe Keevill | 2014 | 6'3 | PF | Lockview |
| Spencer Perkins | 2016 | 5'5 | PG | Lockview |
| | | | | |
| --- | --- | --- | --- | --- |
| Caleb Orser | 2014 | 5'8 | PG | Hartland Community School |
| | | | | |
| --- | --- | --- | --- | --- |
| David Arsenault | 2014 | 5'11 | PG | Lockview |
| | | | | |
| --- | --- | --- | --- | --- |
| Shaik Bundy | 2013 | 6'4 | SG | Moncton High |
| | | | | |
| --- | --- | --- | --- | --- |
| Adrian van Vulpen | 2014 | 6'3 | PF | Amherst Regional HS |
| | | | | |
| --- | --- | --- | --- | --- |
| Drew Robart | 2014 | 5'11 | G | Rothesay High School / KVBA |
| Alex Carson | 2016 | 6'3 | W | Sackville |
| | | | | |
| --- | --- | --- | --- | --- |
| Coleton Oickle | 2017 | 5'7 | PG | Coldbrook District |
| | | | | |
| --- | --- | --- | --- | --- |
| Jack Campbell |   | 6'0 | SG | St Agnes Junior High |
| Dre Medicraft | 2016 | 5'10 | G | Northeast Kings |
| Ian Crowley | 2015 | 6'2 | PF | Kennebecasis Valley |
| | | | | |
| --- | --- | --- | --- | --- |
| Jacob Sheffar | 2016 | 5'8 | PG | Ecole Secondaire Du Sommet |
| Matthew Ingham | 2016 | 6'2 | G | Horton HS |
| | | | | |
| --- | --- | --- | --- | --- |
| Matt McVeigh | 2015 | 6'1 | G | SJA MacDonald High |
| Will Houser | 2015 | 6'0 | SG | L. Bernice MacNaughton/ Codiac Storm |
| Spencer Richard | 2015 | 6'2 | SF | Oxford regional education centre |