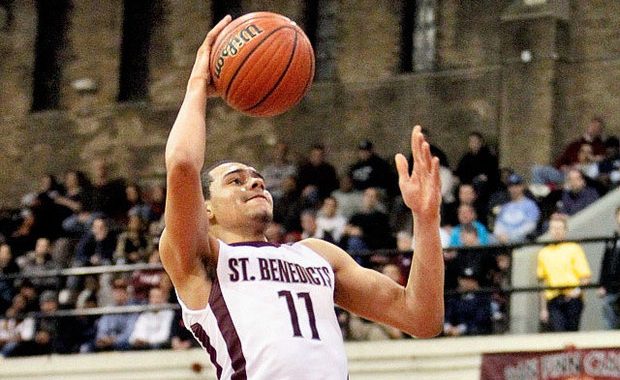 Tyler Ennis Resilient in NHSI Loss…Montverde Takes The Chip'
The 2012 National High School Invitational was as exciting a basketball game as you would see. Findlay Prep (Las Vegas) led by Canadian Anthony Bennett, came from behind and stole the title away from Monteverde (Florida) with an 86-83 win.
This year's title game featured more Canadian content; an exciting finish and another come from behind win for the ages.
Montverde (Florida) erased the memory of last year's defeat in the championship game and claimed their first ever NHSI Championship by defeating St. Benedict's (New Jersey) 67-65 on a last second three point shot by Jalyn Patterson.
Patterson's shot came on right after Canadian and Syracuse bound Tyler Ennis had buried a three from the corner to give the Grey Bees the lead. Ennis, who had missed three weeks earlier this season due to a right shoulder injury, re-aggravated the injury in the first half of the game.
The grit and toughness that made Ennis such a highly recruited prospect was on full display in the second half, as Ennis remained in the game battling with his team in what was the last high school game of his career.
Old Dominion commit Denzell Taylor struggled for much of the afternoon fouling out in the fourth quarter with just five points. Many are speculating that Taylor will re-open his recruitment as a result of the coaching situation at Old Dominion that saw Jeff Jones take control of the program on Thursday afternoon.
St Benedict's had control of the game for three and a half quarters leading by as many as 16 points, but a resilient Montverde squad powered by a 6-0 run to close out the third quarter, and a 10-3 run to start the fourth period got them to within striking distance.
Kentucky commit and Mcdonalds All-American Dakari Johnson led the way for Montverde with 18 points and eight rebounds. After the game while being interview by ESPN, Johnson predicted he would win an NCAA championship next season at Kentucky. A prediction that number one recruit Andrew Wiggins had made him self if he decided to be the seventh All-American to join the Wildcats.
Johnson and the other five Mcdonalds All-American Kentucky bound players spent the early part of the week trying to convince Wiggins to join them in Big Blue Nation next season.
He will have another opportunity to pitch Wiggins on the idea, as the two will participate in the Jordan Brand Classic. Tyler Ennis, Justin Jackson and Jamal  Murray will also be present at the JBC.
NPH will be live in Brooklyn covering the four Canadians.