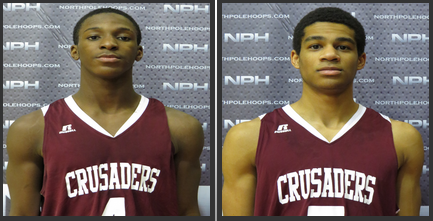 Justus Alleyn, Malik Irwin Stay Local…Commit to the Manitoba Bisons
Winnipeg, MB–There seems to be a growing trend across the country where high school teammates are joining each other at the next level, they also seem to be staying close to home. Most recent, Justus Alleyn (6'2 PG) and Malik Irwin (6'4 Wing) teammates on the St. Paul's Crusaders have made the decision to stay home and attend the University of Manitoba.
Both Alleyn and Irwin had high praises for Head Coach Kirby Schepp who in their eyes is taking the program in the right direction.
"He's (Coach Schepp) a great guy and I can tell that he has a passion for the game. He makes his guys work hard and I want to be a part of that" said new recruit Justus Alleyn.
Justus committed first and Malik followed suit shortly after saying his teammates decision had an impact, "We've been teammates for just about everything since we first met playing community club football back in grade eight. We are very comfortable playing with each other and the idea of competing with him on the national stage again representing our province and high school appealed to me."
Both players have competed at a number of different levels together including this past summer at Nationals where they helped Manitoba bring back a silver medal after losing to Ontario in the championship game.
Alleyn spoke about nationals "It was one of the best experiences of my life. We got to put Manitoba on the basketball map in Canada"
Their final High School season was filled with excitement and disappointment as they were knocked out of the quarter finals at provincials by a Sisler team that made a Cinderella run to the finals.
An injury to Irwin down the stretch hurt the team as playoffs approached and the Crusaders fell short of their overall goal.
"This past season went very well. We set a goal as a team to win every tournament we were in, including provincials. Although the season did not end exactly as we wanted it, we were still pretty successful going 6/8 for our tournaments," said Irwin
Justus Alleyn was widely considered to be one of the top high school players in the province and continually progressed with each game. In almost every tournament he took home the MVP and helped lead the team to a number one provincial ranking. He was being seriously pursued by Fraser Valley but decided on staying at home and representing his own province.
Irwin was being pursued by Saskatchewan and Lakeland College but decided to stay close to home and try to build something special with the program.
Both players are looking forward to getting into Bison uniforms to help build on this past season's playoff appearance and regular season overall record of 14-8.