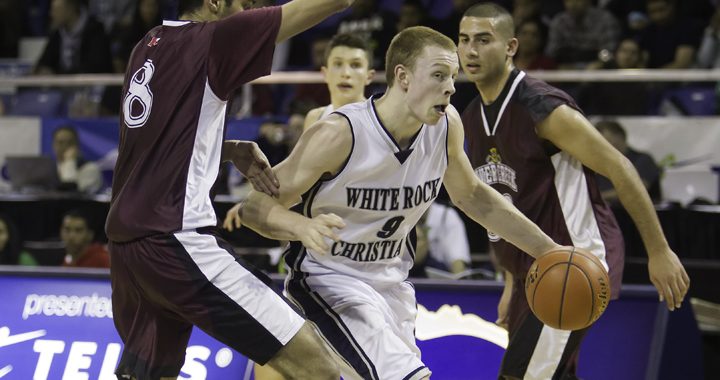 WRCA Clip Enver Creek In Overtime, Advance to BC Provincial Quarter-Finals
LANGLEY, BC–The White Rock Christian Academy Warriors survived a forgettable shooting night and a strong second half push by Fraser Valley rivals Enver Creek to hang on for a 69-66 overtime win Wednesday night.
White Rock was led by 2013 forward Peter Spangehl who finished the game with 19 points (on 9/12 from the field), 16 rebounds and 3 assists in 45 minutes of play. Forward Vartan Tanielian also played the entire 45 minutes and had a solid game finishing with 20 points, 5 rebounds and 4 assists.
The senior trio of Gurkirat Kular (23 points), David Ahmad (10 points) and Nic Jhauj (11 points) led Enver Creek.
However, Aaron Nand—who didn't make a field goal the entire game—likely scored the two most impressive points of his career as he calmly sank two free throws with 0.6 seconds left on the clock to tie up the game. Ahmad, the 6'2" 2013 guard/forward, displayed an impressive defensive game, hounding White Rock star point guard Tyus Allen the entire night.
For the game, White Rock was 9/40 from the three point line and 2/22 in the second half and overtime. The Warriors were, however, able to rebound a number of their missed opportunities and during a crucial stretch late in overtime; they corralled four offensive rebounds in a row to seal the victory.
White Rock takes on WJ Mouat in today's quarter final round and, given that Mouat plays a 2-3 zone almost exclusively, the Warriors will need to make threes in order to make the game easier on themselves.
NPH Top Performers
WRCA
Peter Spangehl- 19 points, 16 rebounds
Vartan Tanielian- 20 points, 5 rebounds, 4 assists
Enver Creek
Gurkirat Kular- 23 points, 6 rebounds
Rajan Gill- 12 points, 9 rebounds