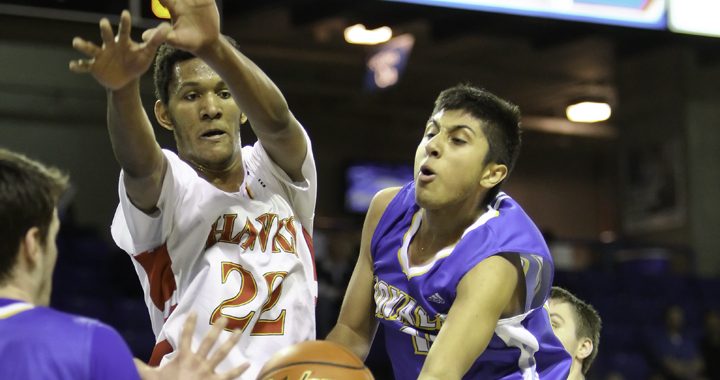 Tristan Etienne Dominant in WJ Mouat Victory Over Handsworth
LANGLEY,BC–There aren't many players at the high school level that can have such a large impact on both ends of the floor the way Tristan Etienne does for W.J Mouat.
There were whispers that Etienne may have struggled in the regional playoffs, however on the big stage that is the BC provincials, the 6'9 hybrid forward came to play leading Mouat to a 74-65 victory over Handsworth.
"I thought I played pretty well…anytime you could put up a stat line that will help your team win a game, it's always good," Etienne told NPH.
Etienne recorded 21 points, 18 rebounds and five blocks on a nearly perfect night from the field, shooting 8 of 9. He showed a face up game, a nice touch around the basket and generated points off rebounding. Defensively, he was blocking and altering shots all game thanks to his great length.
"He's an extremely efficient player….I don't have an updated field goal percentage but it's probably 70…he scores virtually every time he touches the basketball," explained Mouat Head Coach, Rich Alston.
Etienne is clearly the team's best player and will need to get more touches if Mouat plans to move forward in this tournament. He had a monster night against Handsworth, and must maintain this production against a gritty WRCA team.
"Our team struggles at times to get him the ball…our guys need to be prepared to pass it when he's open."
At the same token, Etienne has a responsibility to demand the rock and take full leadership in order for Mouat to maximize their potential.
"It depends on the type of game it is…if I feel like I have a mismatch I will definitely be aggressive in trying to get the ball," said Etienne.
Four other Mouat Hawks hit double figures; Daniel Pawliuk put in 13, Cody Pawliuk and Corey Hauck chipped in with 12 apiece, while Mitch Howden displayed toughness and energy posting 10 points and seven rebounds.
Luka Petkovic lead Handsworth with 24 and seven rebounds. Arman Amini added 10 points and seven steals.
WRCA is up next, and Enver Creek gave the Warriors all they can handle in overtime with key players logging major minutes…potentially something Mouat could use to their advantage.