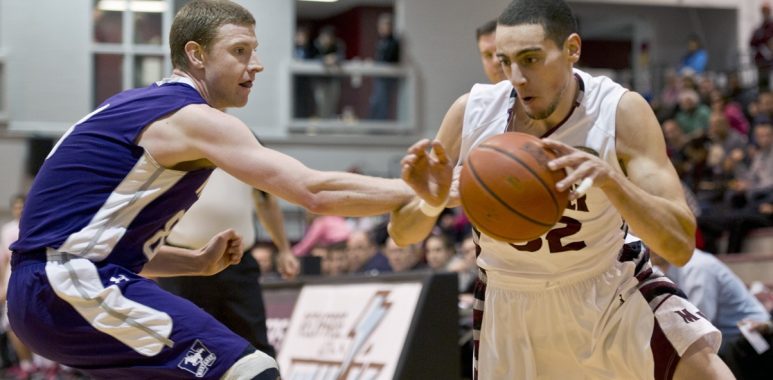 Marauders Crush Warriors, Joe Rocca Another Double-Double Helps Lead McMaster to Six Straight!
HAMILTON, ON – As the McMaster Marauders looked to go six straight, the Waterloo Warriors were standing in the way. MAC made quick work of the Warriors and came out with an 81-56 blowout victory.
Their defense was key in this game, as they held the Warriors to 30 percent shooting form the field, and caused 21 turnovers for the game.
Waterloo struggled with the full court defense that the Marauders put on from the tip. The length and height of McMaster's front court, helped create traps and turnovers that lead to fast break opportunities.
On the flipside, the lack of a reliable point guard for the Warriors was and will continue to be a hurdle this season.
As usual, McMaster'a offense was very balanced with five players in double figures lead by Joe Rocca(17 pts 10 rbs).
Aaron Redpath came off the bench (16 pts 7 ast), Nathan McCarthy (13 pts 7 rbs), Taylor Black (11 pts 9 rbs), and freshman Rohan Boney off the bench (10 pts 4 stl).
The Warriors had three players in double figures lead by Wayne Bridge and Jaspreet Gill with 14 points each, and Ben Davis (12 pts) in the loss. Waterloo was very poor from long range shooting 8-32 just 25 percent.
With six straight wins the Marauders are looking forward to their next match up versus a very good Lakehead squad, in what Head Coach Amos Connolly called playoff like implications.
Some teams would look at a six game streak as a positive feat, but for Coach Connolly and his staff it's another learning experience and teaching opportunity for his team.
"I think it helps build a better sense of family. When you trust your teammates and you are willing to sacrifice for them, you defend better and your shot selection improves. We still have a long way to go, but these players have great character, said Connolly.
"They played well enough when it mattered to make the games versus Lakehead have meaning. We can't help but look at those games as play off games"
Waterloo will be in action again Wednesday February 13th, as they will travel to Brock to face off. McMaster will be off until Friday February 15th & 16th as they host Lakehead in a back-to-back.
NPH Top Performers
Waterloo
Wayne Bridge 14 pts
Jaspreet Gill 14 pts
Ben Davis 12 pts
McMaster
Joe Rocca 17 pts 10 rbs
Aaron Redpath 16 pts 7 ast *off the bench*
Nathan McCarthy 13 pts 7 rbs
Taylor Black 11 pts 9 rbs
Rohan Boney 10 pts 4 stl *off the bench*