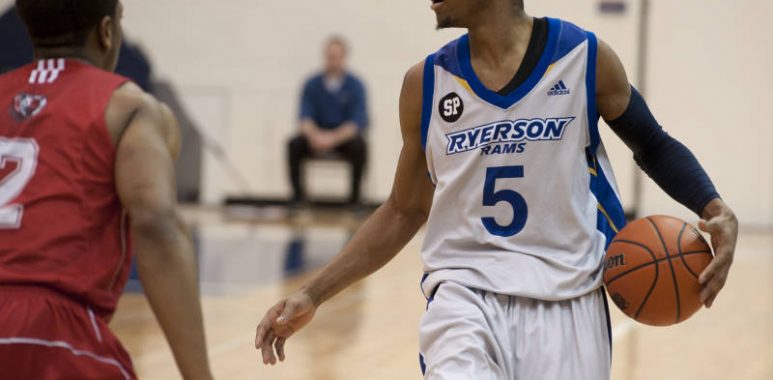 Ryerson Defeats York in Tough Battle…Old Teammates Choliy, Tyndale Re-Connect
TORONTO, ON–It's a simple message, really, one that's been repeated many times before–play hard, always.
That's what fifth-year point guard David Tyndale has been preaching to his teammates all season long, because that's what he's done his entire career. "I play with effort," Tyndale said. "I play with my heart all the time, win or lose."
On Feb. 1, against the No. 6-ranked Ryerson Rams, Tyndale's teammates took the message to heart and lost a close game by the score of 73-69. The native of Mississauga, despite the loss, was happy with the result. "I'm not regretting anything. I'm happy," he said. "I'm a Lion."
The loss drops York to a 5-11 record, but the Lions played better than their record suggests. "It was a tough fight, but we prevailed," first-year Rams guard Jeremiah Wheatle said.
Despite being the host, the Rams started the game slowly and sluggishly, and were trailing 17-10 after the first quarter. Ryerson bounced back in the second quarter, and after 20 minutes of play the score was tied at 28. "We could beat anybody. We really could, and I want my team to know that," Tyndale said.
After the game, he told NPH that he's getting emotional as the final regular season of his CIS career winds down. "It's been a struggle, with ups and downs, but I've learned a lot as a player," he said.
The Lions answered every Ryerson push in the third quarter, and the score was tied at 49 to start the final 10 minutes of action. Though the Rams did push their lead to as many as 10 points (i.e. 60-50, with 6:30 to play), they never could put York away. Their lead was at 68-61 near the end of the game, but the outcome was contested until the final whistle.
Wheatle thinks that the game was different than expected. "If you were to go in the game underestimating them, they definitely could surprise us," Wheatle said. "We have a new addition to our team in Ostap Choliy, and he's great for us."
Choliy, playing in only his second game with Ryerson, started against York, a team he knows well. Until the Rams' win against Queen's a week ago, Choliy had last played in the OUA for the Lions during the 2010-2011 season.
Tyndale, who played with Choliy then, was happy to see his ex-teammate. "It's hard to see (Choliy) on another team," he said. "I'm happy for him, but at the same time I miss him."
Offensively, Aaron Rados led the Lions with 17 points, which included a vicious two-handed dunk in the first quarter. Third-year Nick Tufegdzich scored 14 points to go along with his 10 rebounds while Tyndale chipped in 12 points.
Second-year Aaron Best led all scorers with 21 points, and he added 11 rebounds as well. A balanced effort was the difference for Ryerson, with third-year Bjorn Michaelsen (13), Choliy (11), third-year Jahmal Jones (11) and rookie Juwon Grannum (10) all scoring in double figures.
Both teams get back into action tonight. The Lions head to the University of Toronto for a game against the 2-13 Varsity Blues. Meanwhile, the Rams play host to the 9-7 Laurentian Voyageurs. Both contests are set for 8 p.m.
TOP PERFORMERS
York
Aaron Rados: 17 points, 6 rebounds, 2 assists, 1 steal
Nick Tufegdzich: 14 points, 10 rebounds, 1 assist, 1 steal
David Tyndale: 12 points, 2 rebounds, 5 assists, 3 steals
Ryerson
Aaron Best: 21 points, 11 rebounds, 1 assist, 3 steals
Bjorn Michaelsen: 13 points, 6 rebounds, 1 steal, 1 block
Ostap Choliy: 11 points, 2 rebounds, 1 block
Follow Charles Blouin-Gascon on Twitter @CeeeBG & NPH @Northpolehoops