Kyle Wiltjer Records Career-High 26 in Kentucky Victory Over #16-Ranked Ole Miss…Showing Progress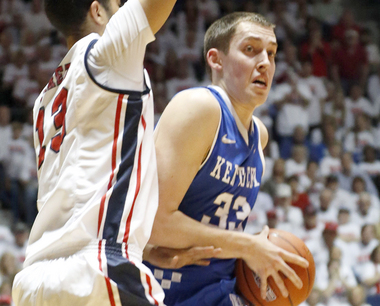 Following a freshman campaign with Kentucky that some would've thought to be a disappointing one for Kyle Wiltjer, the former McDonald's All-American has lifted his performance in every way throughout the 2012-2013 season.
Last night, Wiltjer recorded a career-high 26 points on 10 of 19 from the field (5-12 3P) along with seven rebounds, three assists and three steals in the big victory over #16-ranked Ole Miss.
Last year, the 6'10 hybrid forward averaged only five points in less than 12 minutes of play for the reigning NCAA National Champion Kentucky Wildcats. When you take into consideration that Wiltjer was playing behind six NBA draftees, it's not a major surprise that the five-star recruit received limited minutes.
Anthony Davis (#1), Michael Kidd-Gilchrist (#2), Terrence Jones (#18), Marquis Teague (#29), Doron Lamb (#42), Darius Miller  (#46) were the Wildcats selected in the 2011-2012 NBA draft–an NBA record six players from the same program.
Wiltjer's minutes have now doubled, and so has his production averaging 12 points, nearly five rebounds and two assists. Wiltjer's physical attributes along with his versatility is evident, and with games like last night, he reminds us how good he is…as well as how could he could become.
With added consistency, don't be surprised to see the Canadian forward following in the footsteps of the aforementioned six Wildcats in the future.