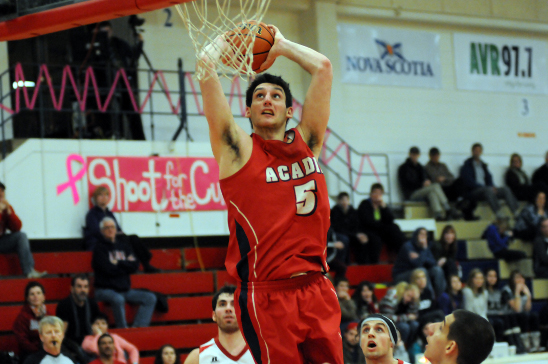 Acadia Back On Track With Return of Klassen/Sears, 2 Victories Over UNB
Wolfville, NS.  The Acadia Axemen won a couple home weekend games against the UNB Varsity Reds but more importantly they took a huge step towards getting healthy.  The return of 6'10 Owen Klassen, who NPH has ranked as the 4th best player in the CIS, has made an instant impact.
Klassen missed the first 4 league games of the 2013 campaign due to an Ankle injury suffered at the Rod Shoveller Memorial Tournament.  Klassen put up 18pts, 7rebs and 3ast in 22 minutes in Saturdays win and 16pts and 12rebs in 35 minutes in Sundays victory.
Anthony Sears who was the 2012 AUS Tournament MVP actually returned last weekend against Cape Breton. Sears stated, "that was a tough weekend to come back against one of the country's best and not playing for almost 9 months, but its great to back".  After shaking the rust off against CBU, Sears showed that his offensive skills are definitely on par by knocking down key shots in the fourth quarter that helped Acadia grab the victory. Sears contributed 12 points in 18 minutes on Saturday and had 15 points in 18 minutes on Sunday.
Tyler Scott who carried a large load while Klassen and Sears were out said on his teammates return, "It just adds to an incredible team, Anthony is an offensive genius and Klassen is an unstoppable force inside, it completes our team."
Acadia again showed its ability to have different players make shots in the fourth quarter with Tyler Scott and Sean Stoqua making key baskets that combined with Sears and Klassen's output to give Acadia a multidimensional attack that kept UNB over working defensively.
On the other side of the ball, Will McPhee played Batman with Jordan Irvine taking on the Robin role as the UNB Reds took it to the Axemen for the first three quarters.  McPhee is as pure a shooter as was seen, while Irvine made big shot after big shot to keep the game close.  However being the only two real scoring threats made it difficult down the stretch as the Axemen's team effort took control and showed that a two player combination was not effective.
With 5 minutes remaining in the game and the Axemen trailing 55-54 Sean Stoqua came off an Owen Klassen high screen and nailed the three to give the Axemen a 57-55 edge.  The shot started a 20-7 run by the Axemen.  Stoqua stayed the steady point guard and fed the ball to Scott,  while Klassen and Sears picked there spots and the Acadia offense exploded for 19 points in 4 1/2 minutes to close out the game for a 74-64 win.
The Axemen defeated UNB 85-69 in Saturdays game.
NPH Top Performers (Sundays Game)
Acadia
Owen Klassen 16pts, 12rebs
Anthony Sears 15pts, 3rebs
Tyler Scott 12pts 7 rebs
UNB
Will McPhee 24pts, 3rebs, 6asts
Jordan Irvine 22pts, 4rebs
Ryan Smith 14pts, 6rebs
Halifax, NS.  In other action this past weekend NPH caught the second half of the UPEI/Saint Mary's game on Saturday.  After a tough 85-80 loss to the #3 ranked Cape Breton Capers. The Huskies who are sitting in 7th spot in the AUS and just outside of the playoffs were in a must win situation.
Saint Mary's stepped up BIG time, when NPH arrived at half time of what was expected to be a highly competitive game the Huskies were up 54-24.  With a little investigation it was determined that guard Jordan Lee and forward Riley Halpin doing most of the damage.
UPEI made a little noise in the second half cutting the margin to 19 points utilizing a 1-2-1-1 press however Saint Mary's was on cruise control and shot the ball extremely well.  Shooting 17/32 from the 3 point arc with Jordan Lee leading the way at 5/7 the Huskies kept their playoff hopes alive in a dominating victory over the less then energetic UPEI Panthers.
NPH Top Performers
Saint Mary's
Jordan Lee 23pts, 7rebs
Riley Halpin 20pts, 4rebs
Kevin Thomas 14pts, 9rebs
UPEI
Terrence Brown 20pts, 7rebs, 4asts
Deontay Smith 12pts, 3rebs
Lorenzo Parker 12pts, 7rebs