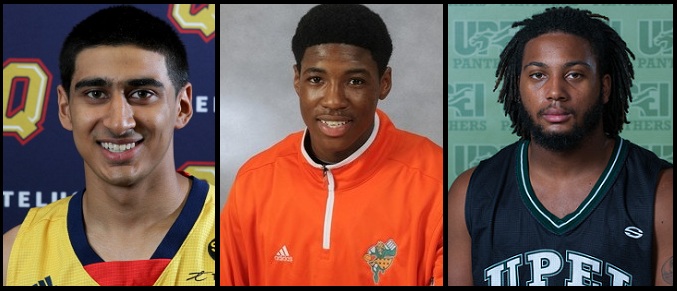 CIS Rookie of the Year: Candidates Across the Country
Entering the 2012-2013 CIS season, our biggest expectations as far as freshman go, were set on Shaq Keith and Rohan Boney; two highly recruited prospects out of high school, both in the 2012 NPH Top 25.
Fast forward six months later, and these two have been meeting expectations. Keith is a key piece for the undefeated Cape Breton Capers (12-0), averaging 15.5 points, four rebounds and two assists per game for one of the top teams in the nation.
On the other hand, Boney's numbers are no slouch, as he is averaging 11 points, five rebounds and three assists for McMaster with great efficiency; shooting 55% from the field, 44% from three-point land. The McMaster Marauders stand at 7-6 and picking up steam.
Sukh Singh of Queens showed signs early in the pre-season that he was set for a big year. The Martingrove alum was not as highly recruited as the first two mentioned, however just as effective. Singh is the second leading scorer on a young team that has surprised a lot people, with Queens sitting at 9-5 including victories over Lakehead and McMaster.
Fellow Queens Gael Roshane Roberts has also made a splash averaging double-digits and part of the young nucleus for Coach Stephen Barrie.
Deontay Smith. Deontay who? It's the same guy that helped lead Team Nova Scotia to a silver medal in the 2009 Canada games, a team that was coached by current UPEI Head Coach Tim Kendrick. Smith currently leads the nation in rookie scoring at nearly 16 points per game, while adding seven rebounds and three assists, amazingly leading the UPEI Panthers in all categories.
UPEI (8-2) ranks behind only Shaq Keith and CBU in the AUS conference. If one big time freshman isn't enough for UPEI, throw Mandrez Downey in the mix. Downey was also on that 2009 Canada Games team with Smith and Coach Kendrick…now the second leading scorer for the Panthers.
Out West, there is a flock of frosh point guards to track in Kyle Peterson (UVic), Youssef Ouahrig (Alberta), Mitch Goodwin (UBCO) and of course the Isaiah Solomon/ Jordan Jensen-Whyte combination for UBC.
Peterson leads the Victoria Vikes in assists at 3.4 to go along with nine points. The former Team Alberta lead guard was expected to provide immediate impact for the team and he has done so, helping UVic to a current 9-5 record, behind only UBC in the CanWest Pacific division.
Youssef Ouahrig has been flying under the national radar for no good reason, but the Quebec product out of Champlain is putting up impressive numbers, averaging 9.7 PPG, 3.6 RPG, 3.4 APG for the #1 team in the Canada West Prairie Division; Alberta Golden Bears hold a record of 12-2.
Last year, it was Adam Presutti of McMaster who was awarded with CIS Rookie of the year honours. Who will it be in 2012-2013? Clearly, there is a healthy list of candidates.
Notable Freshman
Deontay Smith – 15.8 PPG, 7.2 RPG, 3.1 APG – UPEI (8-2)
Mandrez Downey – 15.6 PPG, 1.4 RPG, 1 APG – UPEI (8-2)
Shaq Keith – 15.5 PPG, 4 PPG, 2 APG – Cape Breton (12-0)
Mitch Goodwin – 13 PPG, 4.6 RPG – UBCO (2-13)
Sukh Singh – 12.6 PPG, 4.6 RPG, 3.6 APG – Queens (9-5)
Karl Demers-Belanger – 11.7 PPG, 1.6 RPG, 3.2 APG – Laval (2-7)
Daniel Tulloch – 11.3 PPG, 5.9 RPG on 57% FG – York (5-8)
Rohan Boney – 11 PPG, 5 RPG, 3 APG – McMaster (7-6)
Roshane Roberts – 10.6 PPG, 3.8 RPG – Queens (9-5)
Hassan Abdullahi – 10.5 PPG, 2.5 RPG (46% 3P) – Dalhousie (5-6)
Youssef Ouahrig – 9.7 PPG, 3.6 RPG, 3.4 APG – Alberta (12-2)
Kewyn Blain- 9.5 PPG, 3.8 RPG, 1.6 APG – Carleton (12-1)
Kevin Thomas – 9.1 PPG, 7 RPG – SMU (3-8)
Kyle Peterson – 9 PPG, 2 RPG, 3.4 APG – Victoria (9-5)
Isaiah Solomon – 8.6 PPG, 2.2 RPG, 2.6 APG – UBC (12-2)