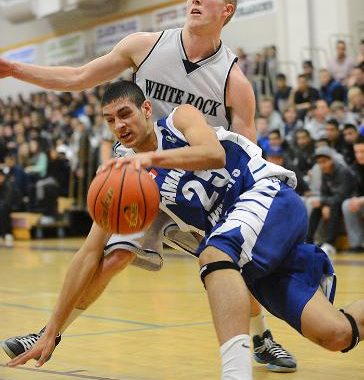 WRCA Picks Up Statement Victory Over Tamanawis, Capture RCMP Championship
SURREY, BC – The two top teams in Surrey – and two of the top five teams in BC – met for a second straight year in Saturday night's Surrey RCMP Classic finals.
In last year's championship game the Tamanawis Wildcats prevailed over perennial powerhouse White Rock Christian Academy, but needed overtime to do it. Having already lost a close game to Tamanawis in league play earlier this season, White Rock had all the motivation they needed coming into this game.
"We not only wanted to win," White Rock head coach Dale Shury told NPH after the game, "We wanted to make a bit of a statement out of it."
It was clear that the entire Warriors squad had received their coach's message and, after a back and forth start, White Rock locked down on defense and exploded for a 30 point second quarter on route to an 11 point halftime lead that they would never relinquish.
Coach Shury pointed to his team's defense as the difference, especially during the late second quarter run: "I told the guys before the game that we don't need to score 90 points to beat these guys," Shury said. "That was really the difference leading into half time was that we buckled down and started playing D for the first time in the game."
Tamanawis did manage to cut the lead to six points in the third quarter, but after a controversial charge call went against the Wildcats – negating a possible three point play that could have made it a one possession game – White Rock went on an 8-0 run, and held on for an 89-70 victory.
Once again for White Rock, their efforts on the offensive glass were key in not only generating second chance points, but also slowing down Tamanawis' transition attack.
"The last time we played them we only gave up 7 or 8 offensive rebounds, tonight we stopped counting in the fourth quarter when it was at 29." Tamanawis Head Coach Mike McKay said. "We're a team that likes to get out and run, and when you're giving up o-boards like that you can't get out and run."
The Warriors were again led by point guard Tyus Allen who scored 32 points and was named tournament MVP. Forward Vartan Tanielian added 23 points, and Matt Perrin chipped in with 13, continuing is strong play off the White Rock bench.
Standout guard Sukhjot Bains led the way for Tamanawis with 26 points. The 6-5 Bains possesses a deadly jumper, superior guard skills, and can score with the best in the province. Bains is also very active on the glass, and is an above average passer. The 2014 guard is certainly one of the most intriguing prospects that we've seen so far this season.
Parmvir Bains (5-8 2014) added 17, and Sukhraj Birring (5-10 2014) scored 10 before going down in the third quarter with an ankle injury. Also for Tamanawis, 6-9 2014 centre Sukhman Sandhu continues to show improvement, and was a force defensively, emphatically blocking multiple White Rock drives to start the game.  The 6-9 Sandhu has a soft touch around the rim, and has shown the ability to shoot from distance in previous games.
Both teams continue league play this week, and are back in tournament action next weekend. Tamanawis will be playing in the North Delta tournament, which also features the top ranked team in the province, the Yale Lions. While White Rock will be playing at the Vancouver College Emerald Tournament, which includes the pre-season number one Walnut Grove Gators.