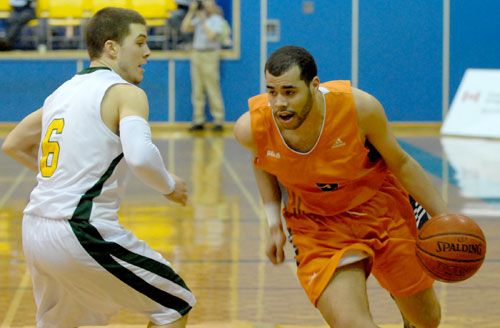 Alex Reis Shoots Lights Out to Lead Mohawk in Tough Win Over Humber
Hamilton, ON -In a rematch of the 2010-2011 OCAA Championship game, the Mohawk Mountaineers took another win from the Humber Hawks, as they fought their way to a 80-77 victory at home.
The Mountaineers received major contribution from their sharp shooter Alex Reis who posted a game-high 20 points. In addition, senior point guard Manny Campbell (22 pts 7 ast 5 rbs) exploded in the second half for 16 of his final 22 points, and put in the layup that pushed the lead to five with seconds to go.
It was the relentlessness on the boards down the stretch that helped propel Mohawk to the win. Although Humber found a way to block out the inside game for the Mountaineers, Andrew Cicuttini (17 rbs 9 pts) and Taylor Dowhaniuk (10 pts 8 rbs) still managed to get on the boards as Mohawk out rebounded the Hawks 63-36 for the game.
"Our guys showed a lot of heart and toughness down the stretch. Humber managed to take away our guys on the inside but we still managed to find a way to pull down the boards and score- whether on a put back or a foul called," said Mohawk Assistant Coach Mac Akrong.
"They never quit and always believed we could win the game. We finally got back to playing the way we played last year that lead us to a national title."
Costly decision making on the offensive end lead to multiple opportunities for Mohawk, and allowed them to take a 69-67 lead with minutes to go, and forced the Hawks into the foul game. When push came to shover Mohawk made sure to have their most consistently free throw shooters on the floor as they shot 9/10 in the final two minutes of the game.
A last ditch effort by the Hawks did make it interesting as Brandon Sam- Hinton (12 pts 6 rbs 6 ast) drained a long ball and cut the lead to three, but it was not enough as time expired.
Mohawk will go on the road for their next game on January 31st and face the Niagara Knights who they beat 84-74 in their season opener back in October. Humber will be in town January 26th to face a new look Redeemer Royals squad as Coach Jamie Girolametto looks to lead his team to the programs winningest season in its team history.
NPH Top Performers
Humber 
Ryan Cook 15 pts
Matthew Marshall 13 pts
Brandon Sam- Hinton 12 pts 6 rbs 6 ast
Gibson Eduful 10 pts *off the bench*
Mohawk
Alex Reis 30 pts 5 ast
Manny Campbell 22 pts 7 ast 5 rbs
Taylor Dowhaniuk 10 pts 8 rbs
Andrew Cicuttini 17 rbs *14 defensive*