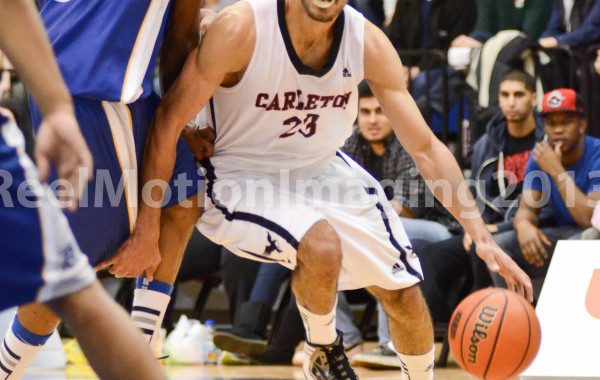 Carleton Ravens Hand Ryerson Rams First Loss…Tyson Hinz & Scrubb Brothers Spearhead Attack!
TORONTO, ON–Just past the midway point of the regular season, there is no more unbeaten team in the OUA.
The visiting Carleton Ravens defeated the hometown Ryerson Rams by the score of 91-66 in the Mattamy Athletic Centre. The game was full of promise as the host team, Ryerson, was ranked No. 7 in the CIS and looking to further knock the two-time defending champion and No.1-ranked Carleton off its perch.
Though he found himself on the winning end of the matchup, Carleton head coach Dave Smart first praised his opponent. "They're really talented," he told NPH. "It's a lot of fun when you play one of the five best quality teams in the country in their gym, and they're undefeated."
It's a lot of fun, especially when you win. That's why this game was about Carleton, and not Ryerson. Though it happened later than usual, the Ravens have at last managed to assert themselves this season. In other words, this new season is the same as all of the previous ones.
All season long, Ryerson head coach Roy Rana had been preaching a one-game-at-a-time approach. After the loss, he told NPH that he hoped that this would be no exception. "It has to be," he said. "We're not going to get too high, and we're not going to get too low. It's a reminder of how much we still have to improve."
Carleton is like a big bad bully–it will look to beat you and won't stop trying to until it says it's gone on long enough. What do you do with big bully? Movies tell you that you punch them back in the mouth.
That's what the Rams did, during the first half at least.
Against Carleton, Ryerson started the game as well as it possibly could have hoped for. Tyson Hinz scored the first two points of the game for the Ravens, but Ryerson countered with nine of the next 12. All came from third-year Jordon Gauthier.
Yet, what movies don't tell you is that bullies can usually punch right back.
After the strong beginning by Gauthier and the Rams, Carleton went on a 19-3 run. The champions led by 27-18 after the first quarter. In the second 10 minutes of action, Ryerson did cut the Carleton lead to 34-33, but Smart's team used the final two minutes to restore the lead. It stood at 40-33 at halftime, yet still everything seemed possible for Ryerson.
The Rams faithful, who had packed the stands at Coca-Cola Court, believed in a win. "It was a great first half," Rana said. "All of our guys believed it, but that's why (Carleton) is number 1."
The problem with basketball games, however, is that they have two halves. And then the problem for Ryerson becomes that its best players must play two halves. "Their main four guys have to play a lot of minutes," Smart said. "When their main four (players) were fresh, we had a tough time scoring…They're as good as anyone in the country."
In the second half, Tyson Hinz took over for Carleton and scored 20 total points. For a lot of the game, he was matched up against two Ryerson rookies in Matthew Beckford and Juwon Grannum. This will be good for Rana's team in the long term, but Hinz was a tough assignment for both.
It's easy to forget that the native of Ottawa was named the CIS Player of the Year for the 2010-2011 season. He's a versatile forward who does most of his damage in the post and against the Rams, that's just what he did. "He dominated in the second half," his teammate Thomas Scrubb said. "He's tough to cover. He's really smart."
Hinz led the Ravens with a game-high 24 points on 9-of-11 shooting but in typical Carleton fashion, he wasn't alone. Philip and Thomas Scrubb scored 21 and 19 points respectively, while fourth-year Dan Penner also scored in double figures with 12.
Though his younger brother gets all of the accolades, Thomas Scrubb impressed against the Rams. A versatile forward, he has improved a lot in the past calendar year. "I didn't work enough on my game in my first two years," he said, "but this past year I have really tried to work on my ball handling and on my shooting. I also received a lot more playing time."
Meanwhile for the Rams, third-year Bjorn Michaelsen was the most efficient with 15 points on 6-of-10 shooting. His teammates Jordon Gauthier, Aaron Best and Jahmal Jones poured in 15, 15 and 12 points each, but they never dominated the game like they can.
This is to say that, the Rams main four players were neutralized. A lot of the credit must go to the Ravens' defense. Smart said that, "For us to defend the way that we did, I'm pretty happy."
Just like in their previous game, which they won against Ottawa, the Rams couldn't figure out how to bury their three point shots. For the game, they made only three of 24 attempts–a silly 12.5 percent rate. What didn't help is that Ryerson couldn't make its free throws either and converted only 15 of 22 attempts.
After a first loss, the Rams will look to rebound when they travel to York and Laurentian, two teams with losing record.
Next for the Ravens are four home games against OUA East rivals. The best team in the country has only two of its remaining 8 games away from home–and they now have the inside track on yet another division title. But Smart warns that, "It's a long way away."
For about two months, this 2012-2013 season looked like it could be different than others–but it's not, not for now at least. Instead, it turns out that the OUA Conference still is Carleton's world, and that everyone else is just visiting it.
Follow Charles Blouin-Gascon on Twitter @CeeeBG & NPH @Northpolehoops
TOP PERFORMERS
Carleton
Tyson Hinz: 24 points, 4 rebounds, 2 assists, 1 block
Philip Scrubb: 21 points, 4 rebounds, 5 assists, 2 steals
Thomas Scrubb: 19 points, 7 rebounds, 6 assists, 1 steal, 1 block
Ryerson
Jordon Gauthier: 15 points, 5 rebounds, 2 assists, 3 steals
Bjorn Michaelsen: 14 points, 4 rebounds, 2 blocks
Aaron Best: 15 points, 5 rebounds, 1 assist, 1 steal