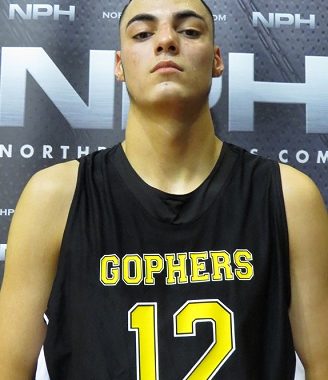 Garden City Defeats St. Paul's in the Battle of Undefeated
Winnipeg, MB–In the highly anticipated matchup between two NPH-Ranked teams, the lower ranked team, Garden City, came out firing on all cylinders and never looked back.
Garden City (NPH #19) defeated St. Paul's (NPH #11) 89-72. The Fighting Gophers started the game on a 10-2 run with Tynan Reyes leading the charge with six points in the opening minutes.  St. Paul's finally started to get their feet under them and responded with a team contribution.
Billy Yaworsky was a large factor in helping with the comeback, providing stability on the boards as he was matched up with Reyes, also adding seven points in the quarter.
Tynan Reyes became a problem for St. Paul's after his 35 point performance opening night against John Taylor; he was going for a similar number, putting up eight in the opening frame. The Crusaders attempted to slow down the big man from Garden City with an aggressive approach in which lead to some foul trouble.
Four St. Paul's players picked up two fouls in the opening half forcing them to go to their bench and rotate players at a high rate.
Justus Alleyn woke up offensively in the second quarter with two three pointers in back to back possessions answering the Garden City three pointers made by Joshua Magpantay and Ryan Hawley. The last portion of the first half belonged to Garden City as they took a comfortable 45-33 lead into the third quarter.
Reyes spoke about battling down low, "When you get in the game, it gets hard out there and you have to grind for every minute. Coach came into that game telling us to play a four quarter game and we're going to have to go out and grind for every minute, every point, a bit of emotion showed tonight."
The strong Garden City attack continued to build steam and kept rolling as they were receiving contributions from almost everywhere.  Malik Coleman stepped up in the third scoring nine points and registering 22 points for the game while causing match up problems for St. Paul's.
Coleman displayed a formidable midrange game, along with the ability to finish around the basket. Hawley was also getting involved, dialling in from long distance, knocking down three pointers from deep.
"I don't even look at the floor, if I'm feeling that I can hit, I shoot it," Hawley told NPH, referring to his launching abilities.
Not be forgotten, Magpantay (NPH Showcase Alumni) was a force with the ball in his hands as his quick step off the dribble caused St. Paul's plenty of headaches as they tried to slow him down. Magpantay also joined the three point barrage as he was feeling it adding three triples to his stat line.
"I was feeling it, but then my teammates helped spread out the floor, and we've got good shooters like Ryan Hawley, and Tynan down low…it's easier for me to dribble and just dish so it helps me create offensive for other people," explained Magpantay.
In the fourth quarter, Reyes, the 2013 interior presence started to get looks down low and really went to work attacking the basket, including a one handed slam with an emphatic finish in the final minutes. Justus Alleyn and Malik Irwin did all they could offensively in the fourth quarter but it wasn't enough to overcome the large deficit.
Garden City will now face Oak Park in the finals.  This is a rematch from the BSSI tournament which resulted in a Fighting Gophers win and both sides are looking forward to this final, including Tynan Reyes.
"I'm so excited for this game, I can't even speak right now, I can't wait to play Nathan Warburton again it's a great matchup, we're the same height, same strength, and same athleticism and it should be a great game."
NPH Top Performers:
Garden City:
Tynan Reyes – 25pts
Joshua Magpantay – 24pts
Malik Coleman – 22pts
Ryan Hawley – 17pts
St. Paul's:
Justus Alleyn – 23pts
Malik Irwin – 19pts
Other Action from the Wesmen Classic on Day 3
HS Consolation Semi-Final: John Taylor 88 – Kelvin 68
Men's Consolation Semi-Final: Keyano College 81 – Mayville State 57
Men's Consolation Semi-Final: Brandon 87 – UNBC 73
Brandon: Jordan Reaves 20pts 10rebs, A.M. Benabdelhak 21pts
UNBC: Joel Rybachuk 20pts 8rebs
Men's Semi-Final: Winnipeg 96 – Mount Royal 79
The Winnipeg Wesmen found themselves in a tough game from the start.  Their slow start hurt them as they trailed 30-8 after the first quarter.  However, proceeded to turn it around and made a huge comeback for the 17 point victory, a 39 point swing.  Winnipeg was led by Benny Iko 22pts 7rebs, Travis Krahn 16pts, Steven Wesley 13pts 10rebs.  Mount Royal was led by Awet Abraha 18pts, Nick Loewen 16pts.
Men's Semi-Final: Lakehead 80 – Dickinson State 53
Lakehead played strong and was led by Joe Hart who put on a shooting performance knocking down a number of triples giving him player of the game honours.  NPH ranked Yoosrie Salhia added 17pts in the victory as the Thunderwolves will advance to the Championship game.