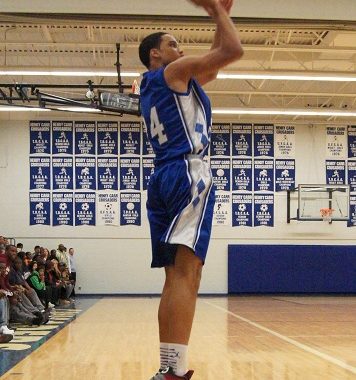 Dillon Brooks, Henry Carr Dominate Day One…Mother Teresa's Emeron Rogers Fresh On the Scene
TORONTO,ON–The 2012-2013 high school basketball season is officially here!!
Every year, the Father Henry Carr Early Bird kicks off the high school pre-season by inviting a collection of upper echelon teams in the Greater Toronto Area (GTA) to play under one roof. A memorable moment from last year's event was the coming out party for Jalen Griffiths of Pickering High.
Dillon Brooks Dominates
On day One of the 2012-2013 FHC Early Bird, Dillon Brooks, NPH #4-Ranked Prospect (2015) came out in beast mode with "that" look in his eyes, ready to prove a point. The 6'5 wing scored the ball in every which way–attacking the bucket, alley oops, mid range jumpers, three point pull ups– you name it, he did it.
Not only did Brooks display his scoring abilities, but also showed unselfishness, hitting team-mates with dimes and circulating the ball within the offense.
Brooks lead Father Henry Carr in both games registering 24 and 21 points in two Father Henry Carr victories.
Emeron Rogers Fresh On the Scene
Mother Teresa came into the FHC Early Bird under the radar; we didn't know what to expect or what type of fire power the Titans possessed. Before long, senior guard Emeron Rogers earned the respect of the defense as he was very impressive on both ends of the floor. The 6'2 combo guard displayed a complete offensive package guiding MT to an "upset" victory over NPH #3-Ranked McNabb 83-73 and a 59-55 loss to Edmund Campion.
*Important to note that MacNab was without multiple impact players*
Rogers posted team-highs of 25 and 18 points.
Jalen King (2015 6'0 PG) was also impressive for Mother Teresa, pumping in 22 against MacNab.
Play of the Day
O.J Watson (2013 6'4 Wing/ MacNab) makes the play of the day with an alley-oop jam on the inbounds pass!
[youtube JynQxbi2aOQ]
Results
MOTHER TERESA 83 (Emeron Rogers 25, Jalen King 22) – MacNABB 73 (Daniel Dzierzawski 24)
FR HENRY CARR 83 (Dillon Brooks 24) – J CLARKE RICHARDSON 38 (Trevor McGarrity 9)
ST EDMUND CAMPION 59 (David Aromolaran 19) – MOTHER TERESA 55 (Emeron Rogers 18)
FR HENRY CARR 87 (Dillon Brooks, 21) – RICHMOND HILL 61 (Mo Validipiak 22)
MacNabb 70 (Francis Kiapway 30) – ST EDMUND CAMPION 59 (Kedar Wright 13)
J CLARKE RICHARDSON 65 (Marcus Ottey 18) – RICHMOND HILL 60 (Nasir Ibrahim 20)