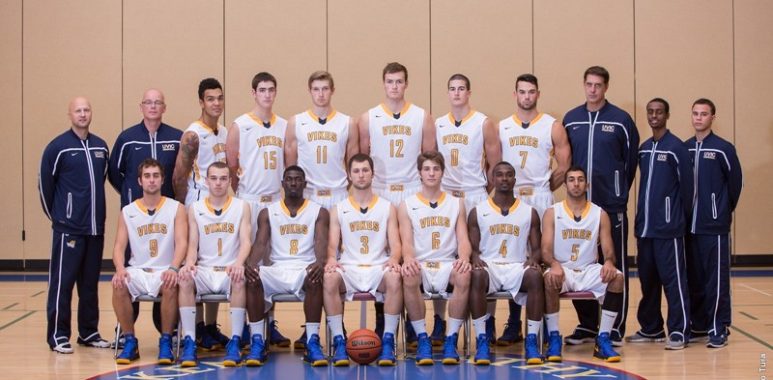 NPH CIS Preview: Victoria Vikes
Last Season:
| | | | | | | | |
| --- | --- | --- | --- | --- | --- | --- | --- |
| Overall | Pct. | Conf. | Pct. | Streak | Home | Away | |
| 14-4 | .778 | 14-4 | .778 | W 8 | 7-2 | 7-2 | |
Head Coach: Craig Beaucamp
Assistant Coaches: Craig Behan, Phil Ohl, Spencer McKay
2011-12 Record: Regular Season 14-4 (1st in Canada West Pacific Division); Post Season – Lost in Canada West Semi-finals.
Key Players: Mike Achempong, Terrell Evans, Chris McLaughlin, Reiner Theil
Incoming Recruits: 
Kyle Peterson – 6'2", Edmonton, AB / Harry Ainlay
Brin Taylor – 6'5", Edmonton, AB / Jasper Place
Departures: Ryan MacKinnon, Zac Andrus, Mike Berg
The University of Victoria Vikes finished the 2011/12 season as the top team in Canada West's Pacific Division, and although they have lost three starters – including leading scorer and CIS All Canadian Ryan MacKinnon – head coach Craig Beaucamp believes that his team can remain among the elite in the wide open Canada West.
Coach Beaucamp spoke with NPH, and gave us his thoughts on the upcoming season.
On his team's identity: "Overall we've been pretty solid defensively, and we've been a good rebounding team. Those are good staples to start with. We've progressed week by week offensively in trying to find what works best for us."
On 6'10" third year forward Chris McLaughlin: "I think it's important for us to have an inside presence and I think Chris McLaughlin is the guy that has emerged. He has a chance to be a dominant player in the league. He is a big body. He's just a guy that is going to pose matchup issues for the other team. For the most part we are going to have a matchup advantage just because of his size and he skillset that he has."
"He doesn't really play on the perimeter, but he's obviously a guy that you can pick and pop with on ball screen action. He shoots the ball as well as any big man. He has really good range and it's a pure stroke."
On his team's key players: "We have a couple returning guys in Mike Achempong and Terrell Evans that are now in their second year with our program. They're still young to the CIS and young to our program, only being in their second year, but eligibility-wise they are transfer players."
"Both of them have to be key guys for us. They are two of the guys that are able to create their own offense through their athleticism, and we rely on those guys to bring scoring and to bring an athletic element to our team. They are key because most nights they will need to play well for us to be successful."
On his two freshman, 6'2" point guard Kyle Peterson and 6'5" guard Brin Taylor: "Kyle is transitioning to the point guard position and playing pretty significant minutes at the CIS level, which is a huge transition for any freshman player. We've been really happy with Kyle. But, like any other freshman, it's up and down and consistency is obviously the key."
"Brin has really worked hard to fit within our system. He brings us a real physical element. Brin's 6'5", 220 and he's as physical and as strong as any fifth year guard in our league. He's just a big body that can guard arguably one right through four on any given night depending on what the other team is doing. He gives us some flexibility and some toughness. He plays with an edge, he's a big strong kid and he's kind of fearless both offensively and defensively. He's not a typical freshman."
On his goals for the season, and the parity in the Canada West: "I think there's a lot of pretty even teams in the Canada West right now. On any given weekend, there is a lot of unpredictability. Our goal is to establish a playoff position, we'd like to be at home, and try to advance to the final four and I think it's completely realistic when you look at where the Canada West is right now, and the strength of the Canada West. There's no one team in the Canada West right now that is a dominant team, by any means."
The University of Victoria Vikes tipped off the Canada West regular season on November 2nd, hosting the UBC-Okanagan Heat at McKinnon Gym, starting the season with a 73-48 win.