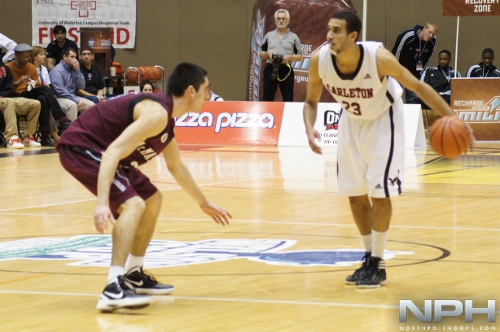 NPH CIS Preview: Carleton Ravens
Last Season
| | | | | | | | |
| --- | --- | --- | --- | --- | --- | --- | --- |
| Overall | Pct. | Conf. | Pct. | Streak | Home | Away | Neutral |
| 34-0 | 1.00 | 22-0 | 1.00 | W 22 | 11-0 | 11-0 | 0-0 |
Head Coach: Dave Smart
Assistant Coaches: Rob Smart Jr., Dean Petridis, Shawn McCleery, Andy Stewart, Manny Furtado
Key Players: Philip Scrubb, Tyson Hinz
Incoming Recruits:
Jean Pierre-Charles – 6'8" Forward – Ottawa, ON
Connor Wood – 6'3" Guard – Guelph, ON
Kewyn Blain – 6'1" Guard – Montreal, QC – transfer from Odessa College, TX
Clinton Springer-Williams – 6'4" Guard – London, ON – transfer from Gannon University, PEN
Departures: Cole Hobin, Willy Manigat, and Elliot Thompson
Though a few key cogs have graduated from the Carleton mens basketball team that went undefeated through 34 games against CIS opponents last year, the Ravens are still flying high atop the improved OUA.
The 2011-12 CIS national champions will miss all-star veteran guards Willy Manigat and Elliot Thompson as well as defensive-minded forward Cole Hobin, but welcome a few new players ready to fill any gaps their departure leaves.
Bench boss Dave Smart, fresh off being named to part of team Canada's coaching staff this summer, sees the turnover as inevitable.
"Every year we lose somebody, some years more than others," said Smart.
"Those three [Hobin, Manigat, Thompson] are going to be a huge void to fill. The talent's not the issue, it's more of a leadership that we lose… there are other guys who were playing lesser roles last year who are very ready to step up and play bigger roles."
Smart says fourth-year players Dan Penner and Kevin Churchill have already stepped up their leadership role with the team in practice and in the first three games of the preseason against NCAA opponents, going 2-1 with wins over the University of Buffalo and Northeastern and a tightly contested loss to UNLV.
Stars Tyson Hinz, now in his fourth year, and Philip Scrubb, beginning his third season with the club, are also becoming more vocal as they grow with the team.
Scrubb, a 6-3 guard and B.C. native won CIS MVP last season in his second year scoring 26 points in the title game, while Hinz, a home-grown 6-6 forward, took home the award in 2011, his second season. Both were named first-team all-Canadians in their last campaign.
Behind the play of this young tandem and the depth the Ravens usually boast, the rookie class will learn plenty, but play sparingly says Smart.
"They're freshmen on a team of veteran guys so their roles will be a little different than some freshmen [on other CIS teams] who will get to have the ball in their hands a little more, shoot it a little bit more, but I think that the fact that they're playing against the guys that they're playing against every day in practice and the fact that they're going to get playing time as well is more beneficial than having the ball in their hands in games only."
Smart believes freshmen Jean Pierre-Charles, a 6-8 forward from Ottawa, and Connor Wood, a 6-3 guard from Guelph, have significant upside, and sees the two transfers from American colleges, guards Kewyn Blain and Clinton Springer-Williams stepping into larger roles.
"Kewyn has a a chance to be very special and so does Clinton as soon as they get comfortable with the stuff we're doing," said Smart.
"I think day-to-day, they're getting it more and more and both of them have a chance to right away make a huge impact on our team and on the league."
The Ravens still have their own House-Laughton tournament in mid-October, the Victoria Invitational Tournament in Alberta after that, and a four-game NCAA trip through the States on the schedule to work out the kinks before opening the regular season Nov. 9 in Windsor to take on possibly their toughest opponent in the OUA.
Smart, the reigning CIS coach of the year, can already see the big picture and knows that all these upcoming games will prepare the team for the difficult task of defending the national championship.
"Obviously our goal is to figure out a way to win three games at the end and that's tough, that's tough, because a lot of things have to go your way when you've got to win three games in three days."
"We've been fortunate eight of the last ten years to have gotten it done and  if we stay healthy, do we have the talent to be in the mix at the end? I think so," said Smart.
"But being in the mix and getting it done are two different things."