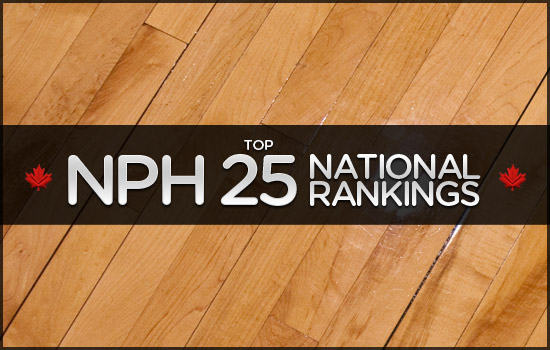 NPH Top 25 Pre-Season National HS Team Rankings
A new season is upon us, meaning some high school programs across the country have taken a step backward and are in the rebuilding stages, while other teams have returned key players and are ready to make another run at their respective championships.
The following is the NPH Pre-Season Top 25 National High School Rankings. Teams will be jockeying for position all year, however Father Henry Carr (Toronto, ON) will open the season with the #1 spot, followed by Eastern Commerce, right on their tracks. Both teams possess star power, a load of overall talent, and great size.
It is still very early in the season, but never too early to begin the discussion! Some teams will blossom over the course of the season, while other teams can find themselves plummeting. Expect a variety of different programs throughout the nation to get a taste of the TOP 25 based on performance, along with a tonne of excitement in 2012-2013!
For inquiries, please email us at Info@northpolehoops.com
NPH Top 25 Pre-season High School Rankings
Henry Carr (ON) Dillon Brooks, Jalen Poyser, Tanveer Bhullar, Josh Bell, Brendon Chevannes, William Maylor, Ty Stewart-Nelson, Christian Hewitt
Eastern Commerce (ON) Justin Jackson, James Sylvester, Mohamed Camera, Tyler Stone, Tevin Bailey, Nathan Croxen
MacNab (ON) Nolan Narain, Nick Burke, Daniel Dzierzawski, Matt Trpcic, O.J Watson
Walnut Grove (BC) Jadon Cohee, Josh Mayorga, Paul Getz, Brad Hoffman
Catholic Central (ON) Mychal Mulder, Shavon Gayle, Davonte Pierce, Marcus Calloo, Malik Calloo
St Mike's (ON) Malcolm Duvivier, Nelson Kaputo, Sage Usher, Simon Pollard-Couillard, Rayshane Case, Eashon Smith, Kayon Grant
Kitsilano (BC) Luka Zaharijevic, Jonathan Kongbo, Tom Cambell
Oakwood (ON) Brody Clarke, Calvin Epistola, Dewan Williams, Russell Baker, Khaleek Bakare-Whyte
Winston Churchill (AB) – Adonis Montfort Polomino, Emmett Cook, Scott Lamb, Dairen Valdez, Matt Guinto
Holy Trinity (ON) Trevon Mcneil, Nolan Mackenzie, Regis Ivaniukas, Nick Ernest
St Paul's (MB) Justus Alleyn, Alec Bernier, Malik Irwin, Josh Selva, Billy Yaworsky
WRCA (BC) Vartan Tanielian, Tyus Allen, Peter Spangehl, Sak Ykema
Citadel (NS) Travis Adams, Jayden Nordin, Isaiah Thomas, Liam Mitchell
Mount Carmel (ON) Cassidy Ryan, Paul Galas, Jason Londequai, Tyrell Rogers
W.J Mouat (BC) – Tristan Etienne, Corey Hauck, Daniel Pawliak
ACMT (ON) Hamid Nessek, Jean-Victor Mukama, Levi Mukuna, Emmanuel Mukuna
Winston Churchill (BC) Mindy Minhas, Jesse Mushiana, Matt Waraich
St George (BC)  Drew Urquhart, Deklan Chung, Tylon Barker, Ethan Scott, Derek Safnuk
Garden City (MB) Josh Magpantay, Tynan Reyes
Harry Ainlay (AB) Jared Shubert, Andriy Halushko, Barento Mohammed
Kelowna (BC) Buzz Truss, Darion Bunce
Bishop Mahoney (SK) Seb Turcott
Dartmouth (NS) Maurice Colley, Cainyn Johnson, Tyler Shaw
St FX (AB) Joey Schwartz, Nikko Guce, Euriah Pemberton, Joey Galan
KVHS (NB) Erik Nissen, Mark Graham, Nathan D'Entremont, Brad Sanford