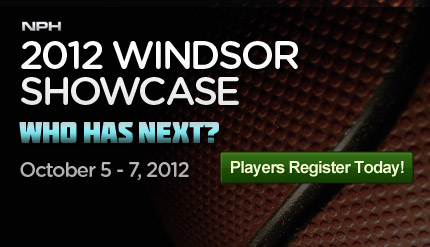 NPH Showcase Coming to Windsor!
WINDSOR, ON–It's a big year for the city of Windsor, as far as basketball goes. Both OFSAA AAAA and AAA championships will be hosted in "The city of roses," where Ontario's top talent will collide at the end of the season.
However, NPH will get an early look at the city's rising prospects in the pre-season by hosting the Windsor Showcase October 5-7. This event is open to all high school players (grade 9-12) who are looking for national exposure and growth.
Geographically, Windsor is Ontario's southern most city in Canada, potentially why it is sometimes overlooked in relation to the Greater Toronto Area (GTA).
As we learned at the NPH Ontario Showcase that took place in Orangeville, there is certainly no shortage of talent from Windsor as we identified NPH Top 10 prospect Mychal Mulder, & Top 35 prospect Shavon Gayle of Catholic Central HS. It is a region ready to prove itself as one of the nation's biggest hotbeds…the time is now!
Furthermore, Windsor based AAU program Team Boltt made a name over the summer winning multiple championships, earning a national ranking by Five Star Basketball, while competing against some of America's finest.
The NPH showcase is Canada's #1 camp for NATIONAL exposure. The three-day event provides a great opportunity to compete and soak in valuable information (academic, recruitment, development) to take your game to the next level! The NPH Team has travelled across the country in search of the nation's elite talent. It's now Windsor's time to shine!
Date: October 5-7
Location: St. Clair College
Price: $130.00 (+ tax/ Service Fee) Includes:
NPH Player Profile Head Shot
Combine (day 1) + 4 Showcase Games
OFFICIAL NPH Showcase Reversible Jersey
National Exposure & Media Coverage (Photo/ Video)
*A perfect opportunity to make a case to enter the NPH National Rankings*
Schedule
Friday, October 5–5PM-9PM
Saturday October 6– 10AM-6PM
Sunday- October 7– 11AM-4PM
Player Registration
[contact-form-7 id="10467″ title="Contact form 1″]