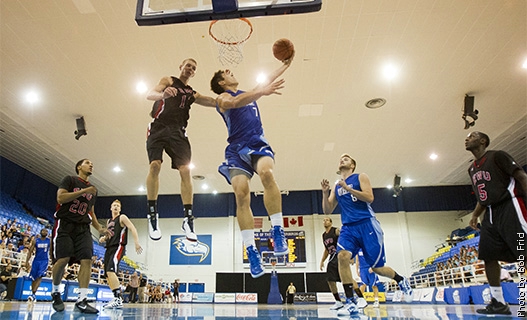 Tommy Nixon, Brylle Kamen Register Double-Double as UBC Shows Positive Signs in Loss to Eastern Washington
NPH Top Performers
UBC Thunderbirds
Brylle Kamen– 20pts, 12rbs, 1blk, 2stls
Tommy Nixon– 18pts, 11rbs, 2ast, 2stls
O'Brian Wallace – 13 pts, 6rbs, 3asts, 1blk
EWU Eagles
Justin Crosgile– 26pts 8rbs 7asts 6stls
Collin Chiverton– 11pts 2rbs 2stls
Vancouver, BC – On September 8, 2012 a familiar foe entered the confines of War Memorial Gym. The Eastern Washington University Eagles were in town to face off against the University of British Columbia Thunderbirds where the two teams faced off sixty-one years ago to christen the now storied battle ground.
This season UBC's head coach, Kevin Hanson, has been put in a rebuilding type flux. With only two rotation players returning from last year's season, the roster is full of new names and young faces. In these scenarios, success does not come without many hardships; however last night's game showed the leadership capabilities of those two returning players, Tommy Nixon and Doug Plumb. The Thunderbirds rallied behind their leaders but suffered a nail biting loss of 77-73 to the NCAA division 1 Eagles, and even though a loss is still a loss, Nixon felt the young team showed heart, that they "fought back really well".
The gap between the CIS and NCAA division 1 basketball is often seen as a large one. UBC seemed to prove that the gap wasn't so large, engaging EWU in a shootout. Both teams were attacking the paint and creating shots through penetration and fast breaks. UBC got off to an initial hot start leading 11-2 in the first few opening frame only to have EWU find there form and come back to tie the game at 21-21 after the first. The UBC offense was fuelled by third year forward Tommy Nixon who finished the game with 18 points along with 11 boards, as well as a new face at the guard position, O'Brian Wallace, who poured in 13 points along with 6 rebounds and 3 assists.
The two teams continued to keep it close, with EWU leading by only four with a half-time score of 41-37 and a tied game once again in the third quarter at 56 – 56. Eastern Washington was led by their point Guard Justin Crosgile shooting 10-22 from the field and 5-9 behind the arc to finish with 26 points. The Thunderbird defense was having a tough time concealing the barrage of step back jumpers as well as three pointers coming from the other EWU players the T-birds found themselves trailing for the bulk of the fourth quarter
Enter Brylle Kamen, a 6 foot 7 inch San Jose State transfer. Kamen was placed in the starting lineup and had played a solid game up to the fourth quarter, attacking the boards as well as attacking the rim with reckless abandonment, giving him eight points and eight rebounds to start the fourth. Kamen would go on to score twelve crucial points in the fourth which included a clutch three pointer, as well as four rebounds which gave the T-birds a fighting chance to send the game into overtime. Despite the teams efforts, a questionable travel call was made before a Nixon three pointer which would have sent the game into overtime, and the T-birds would never recover, losing the game at 77-73.
For T-birds fans, the game did have some upsides. Wallace and Kamen proved that they could be vital to the success of this team with huge contributions against the Eagles. Another player that has potential to have an impact on this season will be rookie recruit Isaiah Solomon who did not have a great night in terms of stats but showed some promise with his slashing capabilities as well as making good passes off the drive. With that said he finished with six turnovers and displayed some obvious growing pains that are unavoidable for a first year player, but the potential is there.
While fans were not sure what to expect from the Thunderbirds, this game gives hope for a competitive and winning season. The current roster has only been together for "two weeks" as stated by Nixon and he felt that this showed "where [they're] at". Coach Hanson will continue to mold a nucleus for the team with Nixon and Plumb at the forefront and hopefully pick up where they left off against the Gaiters of Bishop's University on October 5 at 7pm PT.