NPH CIS Preview: York Lions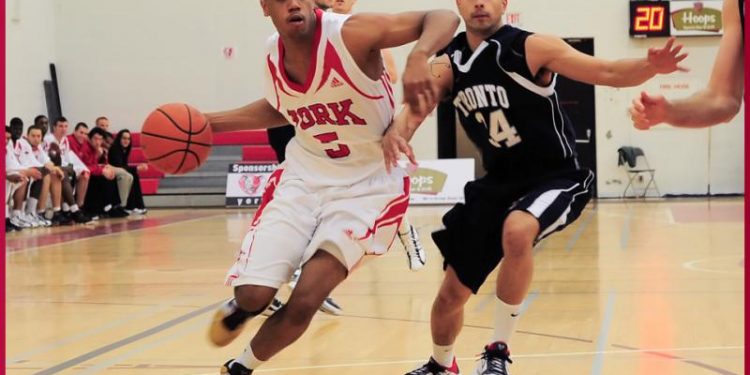 Last Season
| | | | | | | | |
| --- | --- | --- | --- | --- | --- | --- | --- |
| Overall | Pct. | Conf. | Pct. | Streak | Home | Away | Neutral |
| 5-17 | .227 | 5-17 | .227 | Won 2 | 3-8 | 2-9 | 0-0 |
Head Coach: Tom Oliveri
Assistant Coaches: Chris Cheng, Gerard Carlse, Warren Williams
2011-2012 Record: 5-17 (72 points for, 83.7 points allowed)
Key Players: David Tyndale, Jordon Campbell, Richard Iheadindu, Aaron Rados, TJ Rutty, Nick Tufegdzich, Daniel Tulloch
Incoming Recruits: TJ Rutty, Daniel Tulloch
Expectations 
The roar will be loud, but expect it to get louder as the season progresses for the youthful York Lion's basketball team. With no players graduating from last years' squad, much of the developing core remains intact with another year under their collective drawstrings. York Lions are headed in the right direction with players including leading-scorer and two-time OUA East all-star guard David Tyndale of Mississauga (16.7 ppg), OUA East all-rookie selection Richard Iheadindu (6-3 G from Brampton), Aaron Rados (6-6 F from Ottawa), and Nick Tufegdzich (6-7 F from Tecumseh) coming back from last years' squad. There's also the returning guard Jordon Campbell, and a few solid new recruits.
"The first game is Marietta College (Ohio) on Oct. 27 so we're focusing on that. A big part of what we're trying to do is get better every game," said coach Tom Oliveri. "It's a good nucleus and we're just trying to improve, I know it sounds cliché-ish but we're going to try to improve one game at a time."
Now that training camp is underway and the team has been practicing daily since Aug. 27, the roster seems set, pending an upcoming open tryout. League play doesn't begin until Nov. 9 for the Lions when they travel to McMaster to play the Marauders, but they will play 11 exhibition games in the interim against a variety of conference and non-conference teams, including the Naismith Classic in Waterloo Oct. 12-14. These games should help the players and coaches get a feel for what they've been working on in practice and make sure it translates to the court.
"The biggest part of those games is an affirmation of what we've been seeing in practice so it's a great opportunity to test the waters," said Oliveri.
The York team went out last season with consecutive home wins, first toppling Queens led by Tyndale's 38 points, then trouncing Royal Military College 94-49. Hoping to build on that momentum while adding new talent should help the Lions enter this season as they exited the last.
Part of that new talent isn't really new. Campbell will make his return to the lineup after missing all of last season with an ankle injury.
"He played a lot his first year, but then was hurt all last year so it's good to have someone like that back in the fold, said Oliveri. "He was the first guard off the bench for us two years ago, unfortunately had a horrible injury last year. Stuff like that's never easy."
New to the team are TJ Rutty, a 6-7 forward who won OFSAA AA bronze with the Richview Saints in 2011, and 6-6 combo-forward Daniel Tulloch of Mississauga, who has been called "probably the biggest sleeper in the 2012 class."
They will play alongside 2011-12 All-Rookie team member Iheadindu, as well as second-year guard Raheem Isaac, both Brampton natives, forming one of the youngest teams in the OUA.
"I think they're a pretty athletic group. They'll give us depth, and athleticism, and incredible character," said Oliveri.