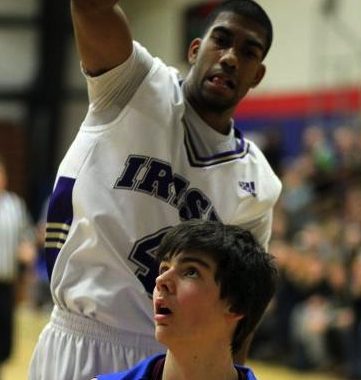 Isaiah Solomon of Vancouver College, one of Three Freshman joining UBC Thunderbirds
VANCOUVER, BC – As one Vancouver College star graduates from the UBC men's basketball program, another is joining the team, ready to make a positive impact for the Thunderbirds.
Guard Isaiah Solomon (Richmond, BC) will be suiting for UBC this upcoming season and joins a long list of Vancouver College graduates who have starred for the Thunderbirds, including the Williscrofts, Gerald Cole, John Mills, the late Reg Clarkson and Nathan Yu who finished his eligibility with UBC last year.  Before moving to VC, Solomon was a standout at Richmond's Hugh Boyd Secondary.
Solomon is one of three recruits, along with Conor Morgan and Jordan Jensen-Whyte, who will be making the jump to Canadian Interuniversity Sport (CIS) play directly from high school.
"I chose to come to UBC because I feel like the school has a lot to offer me," said Solomon, a 6-foot-0 guard.  "I believe I will grow not only as a student but also as an elite basketball player."
"It is exciting playing for the Thunderbirds because throughout the past years of watching UBC play, I knew I would fit right in with their system and being coached by Kevin Hanson will definitely help me grow as a player and hopefully win a few championships along the way."
Solomon's basketball sense earned him high praise from the T-Birds' staff.
"Defensively, he does things that I just haven't seen a lot of players do," said UBC head coach Kevin Hanson.  "His ability to get deflections, his ability to get steals and he's always making something happen defensively.  That kind of work ethic is going to bode very well."
Solomon helped his Vancouver College team to a fourth-place finish at the 2012 B.C. 'AAA' Boys' High School Provincial Championships in March.
In four appearances at the tournament, he averaged 16.3 points, 7.2 assists and 5.8 steals a game.
During the regular season, he scored 21 points a game, while dishing out eight assists and recording four steals.
In 2011, Solomon's team advanced all the way to the 'AAA' Provincial final before falling to R.C. Palmer of Richmond.
"He's a pass-first kind of guy and makes the people around him a lot better but he can score when he has to," said Hanson.  "He had a great high school career, he's a true competitor and a great person so I think he's going to be a great fit in our program."
UBC will open the 2012-13 basketball season with a non-conference home game against Eastern Washington (NCAA Division I) on Sept. 8 at War Memorial Gymnasium