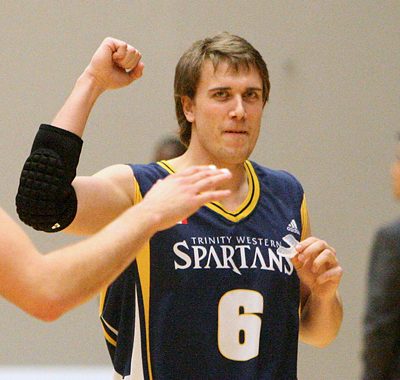 Canadian Jacob Doerksen Signs Pro Contract In Germany
TORONTO, ON–British Columbia's Jacob Doerksen has signed to a one-year contract with Rasta Vechta in Germany's Pro A division for the 2012-13 season, as announced by Slan Sports Management today.
Doerksen, a 6'7" forward from Abbotsford, British Columbia, played last season for the UBC Hannover Tigers. Averaging 21.7 points, 7.7 rebounds and two steals per game in 33 games, Doerksen was named Eurobasket.com Germany Pro B Center of the Year, as well as being named to the Eurobasket.com Germany Pro B First Team and Eurobasket.com Germany Pro B All Import Team.
Jacob Doersken is a graduate of Trinity Western University, and averaged 20.9 points, 8.6 rebounds and 1.6 rebounds per game over his final three years in school.  He was twice voted to the CIS National Tournament All-Tournament Team; he's a two-time First Team All-Canadian, and in 2009 was voted the CIS All-Canadian Player of the Year.
"My first year playing professionally was a wonderful experience," said Doerksen. "I am excited to be moving up to Pro A and look forward to a great year ahead."
Rasta Vechta, finished the 2011-12 regular season in Germany's Pro B division with  a 17-7 record. They beat Doerksen's former team, UBC Hannover, in the semi-finals of the playoffs, before losing in the Pro B championship.  Their strong season allowed them to get promoted to Germany's Pro A division.
"We watched Jacob for the entire season and thought his skill set would be a tremendous addition to our club," said Rasta Vechta board member Thomas Zubrägel.  "Now that we have moved up to Pro A, Jacob is going to be an important part of our club having a successful season."
For more information and individual box scores for Jacob throughout the season, visit http://slansportsmanagement.com/jacob-doerksen.
About Slan Sports Management
Sports Management (SSM) is a NBPA, WNBPA and FIBA licensed sports management firm.  SSM is dedicated to building and managing the careers of Canadian athletes. To learn more, visit www.slansportsmanagement.com.