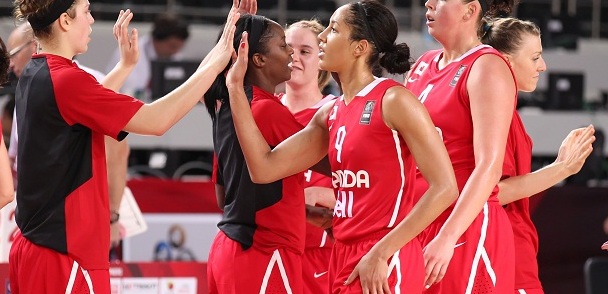 Senior Team Canada
Team Canada
Canada Rolls Over Mali, Courtnay Pilypaitis Records Double-double in Olympic Qualifier!
NPH Top Performers
Courtnay Pilypaitis- 15 pts, 10 ast
Kim Smith- 11 pts
Miranda Ayim- 10 pts
Ankara, Turkey – Canada was able to dictate the game from start to finish and opened the FIBA World Olympic Qualifying Tournament with a convincing 89-23 win over Mali.
Canada was led by Courtnay Pilypaitis (Orleans, ON) who recorded a double-double with 15 points and ten assists, which were both game-highs. Kim Smith (Mission, BC) scored 11 points, while Miranda Ayim (London, ON) had 10 points in the game.
"We are happy to get our opening game under our belts and get the nerves out," said head coach, Allison McNeill. "Mali showed a lot of heart and played very hard throughout the game."
"It was great to see all our players on the score sheet tonight. I'm happy that we got through this game and we are looking forward to playing France tomorrow," added McNeill.
To begin the first quarter, Canada seemed to have a few nerves as they went down 6-3 early in the opening frame. After that, Canada was able to go on a 19-0 run to end the quarter, giving Canada the 22-6 advantage after the opening ten minutes.
In the second quarter, Canada was able to run their offence very efficiently and the defense was also up to task as they limited Mali to four points. Canada was led by Kim Smith who scored nine points in the opening half. Canada also had eleven different players score in the half and by the end, Canada had the 46-10 advantage.
In the second half, Canada continued to control the game. They were able to keep producing offensively by scoring 19 in the third quarter and 24 in the final quarter. Canada was able to play all their players in the game and each player recorded at least two points in the game.
For box score, click here.
Canada will play tomorrow against the eighth ranked France team (2:15 p.m. EDT). The game will be available to watch online at FIBATV.comand also to follow on FIBA Live-Stats.