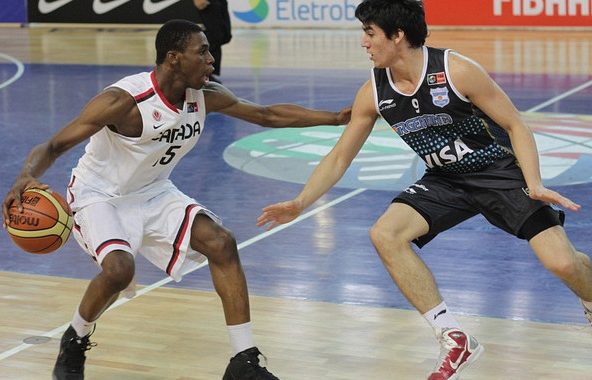 Junior Team Canada
Team Canada
Canada Slides by Argentina, Remain Undefeated at FIBA Americas
NPH Top Performers
BRAZIL – In a very close match between Canada and Argentina, the Canadian Junior Men's National Team were able to fend off a late Argentina push, as Canada won, 75-68. With the win, Canada improved its record to 3-0 in the tournament and won Group B. Canada will now face the losing team in the game between Brazil and the U.S.A. in the semi-finals tomorrow.
Canada was led by Andrew Wiggins (Concord, ON) who scored a team-high 19 points; while Trey Lyles (Saskatoon, SK) had his third consecutive double-double of the tournament with 16 points and 12 rebounds.
In the first quarter, Canada jumped to an eleven point advantage, but towards the end of the frame, Argentina found a way to chip away at the lead. Andrew Wiggins (Concord, ON) hit a late three-pointer to give Canada a 19-15 lead, at the end of the first quarter.
During the second quarter, it continued to be a tight game. Both defenses were able to put pressure on each other's shots and led both teams to shoot under 40% from the field in the quarter. Canada was able to capitalize on second chance points (8) to Argentina's (3). Canada hung on to the lead as the half ended, 34-29.
To start the second half, Canada had a hard time defending Argentina, as they opened the second half with an 11-4 run to tie the game at 38-38. This would be as close as Argentina would get in the third quarter, as Canada closed out the frame with a 52-49 lead.
Early in the final quarter, Argentina made it a one point game. Argentina kept the game close and was able to not allow the Canadians to pull away. Xavier Rathan-Mayes (Scarborough, ON)  scored 11 of his 12 points in the quarter as Canada was able to hang on for a 75-68 victory.
With Canada earning a berth into the FIBA U19 World Championships next year, this marks the 14thconsecutive age-group FIBA World Championship Canada has qualified for.
For box score, click here.
Canada will next play the losing team between Brazil and U.S.A. tomorrow. The time of the game has not been released yet. To find out the time, visit FIBA Americas website for times for all of tomorrow's games.