NPH British Columbia Showcase Announced, June 15-17!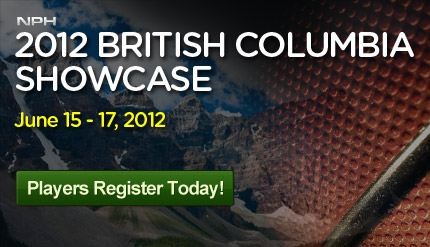 VANCOUVER,BC–NPH is proud to announce the  British Columbia Showcase set for June 15-17, at the state of the art Richmond Olympic Oval.
This event is open to all players (boys) grade 8-12 striving to develop, and enter the national radar!
It has been one full year since our first visit where we encountered some of the top talent that the province has to offer. NPH BC Showcase Alumni include Hawaii Commit Manroop Clair, Anton Bailey (Navarro JUCO), Nick Irvine (UofT) in addition to national team invitees Jadon Cohee and Tristan Etienne
It will be yet another opportunity for players to enter the NPH National Rankings and for current ranked players to rise based on production.
Day one will take athletes through a series of drills focusing on skill development in addition to strength and conditioning.
Day two will provide players a chance to prove themselves in competition with each age group split into teams.
Participants will be evaluated throughout the first two days, where they will earn the right to be selected for the Top Prospect Showcase on day three.
NPH showcases are the only events in the nation that provide the combination of national exposure and mental/physical player development.
Student-athletes participating in the showcase will learn drills, techniques and exercises that they can practice any where with very minimal equipment. In addition, all participants will receive an official NPH showcase jersey, player profile head shot and a minimum of three games.
Location: Olympic Oval (Richmond, BC)
Date: June 15-17
Cost: $130.00
Player Registration