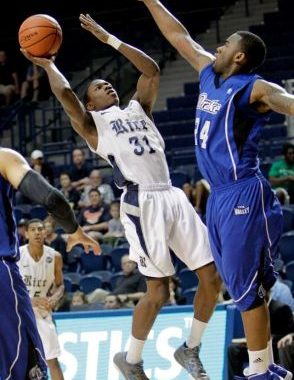 Dylan Ennis Prepares for Big East Basketball at Villanova
Dylan Ennis (Brampton, Ontario) has transferred from Rice university after a rock solid freshman season that saw him average 8 points, 4 rebounds and 4 assists per game, while named to the Conference USA All-Freshman team.
If that's not enough, Ennis broke the school freshman record for assists of 114 after dishing 144 dimes this past season.
The 6'2 point guard has joined Villanova in the Big East conference, however will first sit out the 2012-2013 season due to NCAA transfer rule, with three years of eligibility remaining.
"As a competitor it does hurt to sit out, but I'm going to use it to train so I'm not a step behind. I think using the year to work on my weaknesses as a basketball player will really help me," Ennis told NPH.
Other schools in the mix were Cincinnatti, Boston College, Virginia Tech and Virginia.
"Villanova just felt like home to me when I visited. Also, its closer for my family to come watch…but a big reason was the style of play. Coach Wright knows how to get the best out of his guards."
In his time off, Ennis says that he will work on his leg strength in order to run up and down the court in the Big East conference.
"I want to try and be that lockdown defender when I'm ready to suit up for a game."
In the meantime, it's back to the lab.