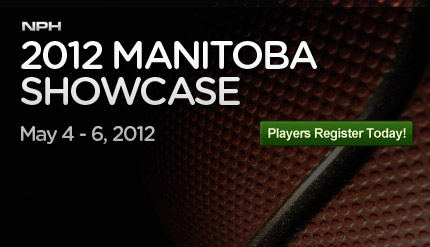 High school
Showcase|Video
NPH Partners with McDole's Gym for Manitoba Showcase + Prospect List Updated!
WINNIPEG,MB–The NPH Showcase hits Winnipeg, Manitoba for the FIRST TIME EVER on May 4-6! Below you will find a list of registered players thus far!
Be sure to take advantage of this opportunity to participate in the ONLY event in Canada that provides the combination of national exposure and player development!
NPH has partnered up with McDole's gym to provide showcase participants with the best strength and conditioning training that the province has to offer!
McDole's Gym is Winnipeg's leader in sport-specific train­ing, group train­ing, and one-on-one per­sonal train­ing. McDole Per­for­mance Sys­tems has helped pro­fes­sional ath­letes from the NHL, AHL, CFL, and UFC.
The McDole Per­for­mance Sys­tems' staff has over­seen phys­i­cal trans­for­ma­tions of numer­ous pro­fes­sional clien­tele and young athletes which includes working with the Manitoba Bison basketball team.
It will be an exciting time for basketball within the province…an opportunity you DO NOT want to miss!
Get up Canada, Play time is over!!
[youtube 2LeITaL3gXo]
REGISTER HERE
[contact-form-7 id="10467″ title="Contact form 1″]
NPH Manitoba Showcase Prospect List
Casey Blanca | 2013 | 5'9 | PG | Oak Park (Pending)
Kuet Kuet | 2013 | 6'1 | G | John Taylor (Pending)
Billy Yaworsky | 2014 | 6'5 | PF | St. Paul's (Pending)
Brenden Alexander | 2014 | 6'0 | G | Grant Park (Pending)
Jordan Kelly | 2012 | 6'3 | G | CFCA (Pending)
Daniel Habtegebreal | 2013 | 6'1 | PG | Sisler (Pending)
Matt Dunning | 2014 | 6'0 | SG (Confirmed)
Mohamud Ahmed | 2015 | 6'3 | SG | Vincenty Massey (confirmed)
Joseph Medrano | 2014 | 5'11 | PG | Sisler (Pending)
Jordan Delury | 2014 | 5'9 | PG | Fort Richmond (Pending)
Malik Irwin | 2013 | 6'4 | SG | St. Paul's (Pending)
Junior Sesay | 2013 | 6'2 | PG | Oak Park (Confirmed)
Derek McKnight | 2014 | 6'1 | PG | Mennonite Bretheren (Pending)
Jack Walker | 2013 | 6'7 | C | Glenlawn (Pending)
Christopher Howell | 2015 | 6'0 | PF | Oak Park (Confirmed)
Kieran Hall | 2016 | 6'1 | PF | River Heights (Confirmed)
Ivan Paskvalin | 2014 | 6'1 | SG | Kelvin (Confirmed)
Matthew Mackenzie | 2015 | 6'1 | SF |Sturgeon Heights (Confirmed)
William Sesay | 2015 | 5'11 | PG | Westdale (Confirmed)
Bikram Gill | 2015 | 5'9 | PG | Maples (Pending)
Avery Cadogan | 2014 | 6'4 | PF | St Johns Ravenscourt (Confirmed)
William Nuilan | 2016 | 5'9 | SF | Van Walleghem (Confirmed)
Noah Nigussie | 5'8 | G | Maples (Pending)
Nathan Wentzell | 2016 | 5'10 | SF (Pending)
Torrez McKoy | 2015 | 5'9 | PG | Mennonite Bretheren (Pending)
Shakur Harris | 2016 | 5'5 | PG | Viscount Alexander (Confirmed)
Alexis Chu | 2016 | 5'5 | PG | Ecole Charleswood (Confirmed)
Denzel Soliven | 2015 | 5'8 | PG | Sisler (Pending)
Isaac Margolis | 2014 | 5'10 | PG | Oak Park (Pending)
William Kohler | 2015 | 6'3 | SF | Westdale Jr High | (Confirmed)
Chris Benevides | 2012 | 6'0 | G | Maples (Pending)
Chawezi Ntungo | 2016 | 5'6 | PG | Acadia Jr High (Pending)
Alec Bernier | 2014 | 6'4 | Power Forward | St. Pauls (Confirmed)
Cole Mazurik | 2013 | 6'5 | SF | Glenlawn (Pending)
Josh Sleva | 2014 | 6'3 | SF | St Paul (Confirmed)
Gurnoor (Vicky) Chahal | 2013 | 5'11 | G | Mennonite brethren (Pending)
Elias Farah | 2015 | 5'9 | PG | Scarlett Heights (Pending)
Marcel Arruda-Welch | 5'5 | 2016 | PG | Meadows West (Confirmed)
Jacob Penner | 2015 | 6'4 | PF | MBCI (Confirmed)
Matt kerkhoff | 2012 | 6'3 | G | McNaughton | (Confirmed)
Parker Gourlay | 2012 | 5'10 | G | McNaughton (Confirmed)
Girls
Kerilynn MacLennan | 2013 | 5'10 | PF | Oak Park (Confirmed)
Jenily Monton | 2013 | 5'7 | PG | Oak Park (Pending)
Kyanna Pingue-Giles | 2016 | 5'6 | SF | Sargent Park (Confirmed)
Kyia Pingue-Giles | 2016 | 5'5 | PG | Sargent Park (Confirmed)
Sentilla Bubb | 2015 | 5'7 | C | Sisler (Pending)
Carina Sosnowski | 2015 | 5'10 | PF | St Maurice (Pending)
Jordan Tully | 2015 | 6'1 | PF | Oak Park (Pending)
Kirsten Biggar | 2015 | 5'9 | SF | Henry Izzat (Confirmed)