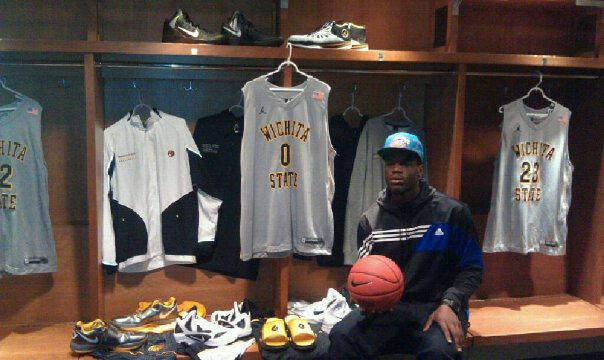 Chadrack Lufile Joins Fellow Canadian Nick Wiggins at Wichita State!
BURLINGTON,ON–Chadrack Lufile, former Assumption (Burlington, Ontario) high school star, has bounced around under the radar, playing for three different junior colleges including Chipola, Vincennes and finally transferring to Cofeyville where he averaged 12 points, nine rebounds, two assists, two steals this past season.
With the prestige of the NCAA, and thousands of players chasing their dreams to play at the D-1 level, discouragement and doubt can come from anywhere. However, Lufile's faith and perseverance have allowed him to leap over hurdles along the way.
"I've been through it all…God just made this a test for me to see how tough I am, how far could I go with the worst and the best," Lufile told NPH.
After shortening a seemingly never ending list of NCAA schools, it came down to TCU, Georgetown, Missouri , WSU, Illinois, and Mississippi…ultimately selecting Wichita State to join best friend and fellow Canadian Nick Wiggins.
Lufile and Wiggins were already team mates at Vincennes where they built chemistry and strengthened their bond both on and off the floor.
"I had a discussion with my best friend Nick and we talked for months and months…we always had our dream of one day playing with each other, and now ready to show the whole world what we're all about!"
For years, the word potential came into discussion among the Canadian basketball community when referring to Lufile. Now, it looks like the 6'9 physical specimen is one step closer to maximizing his abilities at the NCAA level.
"The lord has blessed me with talent and courage to reach this moment and I'm taking advantage of everything…I am blessed and thankful."
Wichita State had an impressive 2011-2012 season that saw them on top of the Missouri Valley conference with a 27-6 overall record and a trip to the NCAA tournament.
Lufile joins a strong recruiting class for Head Coach Gregg Marshall, while becoming the second Canadian on the roster. He holds pride in his roots and is confident about the upcoming season.
"You best believe I'm going to put in the work and hold Canada on my back everyday from this point!"
The additions of Lufile and Wiggins will ensure NPH follows the progress of Shocker Nation as the 2012-2013 looks promising!