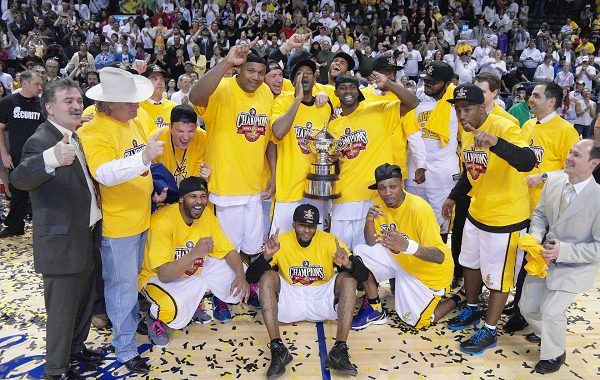 London Lightning Make History Winning First Ever NBL Canada Championship!
LONDON, ON--In front of 5,106 fans at home, the London Lightning beat out the Halifax Rainmen 116-92 in Game 5 of an exciting finals showdown to become the first NBL Canada Champions.
""What a great finish to an outstanding Championship series, outstanding playoffs and an exciting regular season," said John Kennedy, NBL Canada Commissioner.
"I know I speak for the entire League, when I say we're very pleased with the success we've had this year and look forward to even bigger accomplishments in the future!"
Mr. Kennedy was unfortunately out of town due to personal reasons, but he sends his regrets and congratulations to the entire Lightning organization. Chief Operating Officer Ian McCarthy stepped in to present the Lightning with the NBL Canada Championship Trophy.
"It was an amazing showcase for the League, it was exciting to go to a game and we're looking forward to building on this for next season," said Mr. McCarthy.
McCarthy also announced Gabe Freemen of the London Lightning as the playoff MVP and Head Coach Micheal Ray Richardson as Coach of the Year.
The Lightning held the number one spot all regular season, finishing with an impeccable 28-8 record.
"It was a great game with an incredible crowd, what we did was protect our home court and its an unbelievable feeling." said Richardson.
Leading the Lightning to their championship win was DeAnthony Bowden with 28 points, followed by Gabe Freeman with 22 and Eddie Smith with 20. Shamari Spears and Rodney Buford had 18 points each while Tim Ellis had 14 rebounds for the Lightning.
The Rainmen were led by Chris Hagen with 21 points, followed by Tyrone Levett with 14 and Justin Johnson with 13.
"It was an unbelievable game, with two teams that fought their hearts out all season to come together in the championship and to game 5," said Andre Levingston, President & CEO of the Halifax Rainmen.
"London did an unbelievable job and deserved to win, but from a league standpoint this was incredible for the fans."
NBL Canada's successful first season will conclude with the League's inaugural All-Star weekend in Halifax March 31-April 1, presented by Rogers Communications Inc. For more information visit nblallstar.ca.