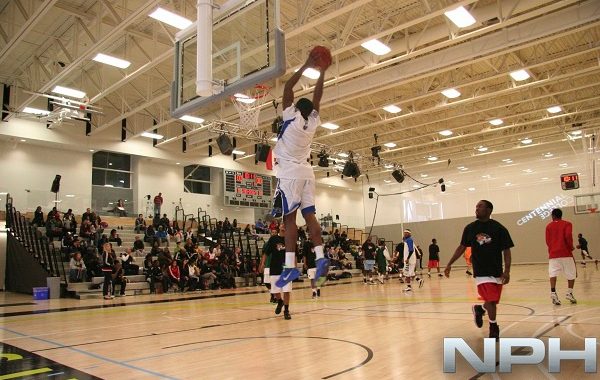 OCAA All-Star Game Brings Out Top College Player in Province! Romaine Lawrence, Corina Bruni Collect MVP
TORONTO,ON–Playing together on the brand-new court at Centennial College's Progress Campus at the OCAA All-Star Game allowed the top mens' and women's basketball players in the province a chance to reflect on the season and send it off in style.
Basketball players from over 20 different Ontario colleges represented the East and West regions in a set of all-star games and three-point shoot-outs, as well as a co-ed team skills challenge.
In the Women's All-Star game, the West team came out strong and built a 32-20 advantage by halftime, led by Algoma's CCAA All-Canadian winner Corina Bruni who scored 10 first-half points.
In the fourth quarter Tamara Nembhard from Seneca dominated the post and Fleming's Kelly Killoran hit two three-pointers to bring the East within one point, down 65-64.
With the game tied and just over a minute remaining, Sheridan's Michelle Abella came up with a crucial steal and passed the ball to her Sheridan teammate, and OCAA 2011-12 leading scorer (23.2 ppg), Nakia Arthur who put the game away from the free-throw line. Arthur finished with 15 points in the win.
"There were a lot of ups and downs on our team this year, so this is fun. This is the best part of OCAA, period," Arthur said after the game. "It's not a season game, but at the end of the day you get to come and play on a team with the best girls from other teams who all come together. It's a lot of fun."
Leading the victorious West team with 17 points, Corina Bruni was named All-Star Game MVP.
"It is a big honour because I got to play with a lot of my friends," said Bruni. "This was my first year in the OCAA and I was able to do pretty well with Algoma and met lots of friends on various teams so to be able to go out there and compete with them all together it means a lot."
"We've been looking forward to this all year. It's great to be able to play with the people you know," said Kelly Killoran whose threes couldn't complete the East team comeback, but won her the three-point shootout. "They're your rivals during the season, but they're your teammates for this, so it's really fun."
In the Mens' All-Star Game, the East and West were neck-and-neck through three quarters before the East pulled away in the final frame taking a ten-point advantage that the West couldn't quite catch.
Sheridan's Khalid Abdel-Gabar finished with just three points in the game, but took home the three-point shootout crown at halftime with an impressive score of 17.
The West was led by Sheridan's Denmark McDonald in the frontcourt with 26 points, and the Humber backcourt duo of Mark Perrin and Akeem Sween who finished with 18 and 12 points respectively. Perrin's breakaway dunk may have been the highlight of the game, and his eight points in the fourth quarter almost led a West team comeback.
A three-pointer at the third-quarter buzzer gave Algonquin's Romaine Lawrence 27 points through three, en route to a game-high 30 points and All-Star game MVP for the East.
"It's competitive because it's East and West. They always say West is better, but we proved today the East is better," Lawrence told NPH after the game. "We just knocked down our free-throws and took our time. I contributed with my points, but honestly didn't know I had 30. I'm a team player and the assists and rebounds were a big part of my game, but if I've got an open shot, I'm going to knock it down."
"The West has always been known to be a powerhouse in comparison to the East, but obviously today we showed we have some really talented star players," said East Division First-Team All-Star Max Clarkson. "It's fun, but at the same time it's competitive and you have to keep those two things together. It was a great way to send off the season. I love playing with these guys that I play against most of the time."
OCAA Women's Awards
Player of the Year – Sandre Bascoe, Algonquin
CCAA All-Canadians – Sandre Bascoe, Algonquin. Corina Bruni, Algoma
CCAA Coach of the Year Nominee – John MacInnis, Algonquin
Rookie of the Year – Atissa Cronk, Humber
League Scoring Champion – Nakia Arthur
All-Star Game MVP – Corina Bruni, Algoma
OCAA Mens' Awards
Player of the Year – Jovain Wilson, Algoma
CCAA All-Canadians – Aminu Bello, Mohawk. Jovain Wilson, Algoma
CCAA Coach of the Year Nominee – Jim Barclay, Centennial
Rookie of the Year – Tristan Stern, Centennial
League Scoring Champion – Rob Gagliardi, Durham
All-Star Game MVP – Romaine Lawrence, Algonquin