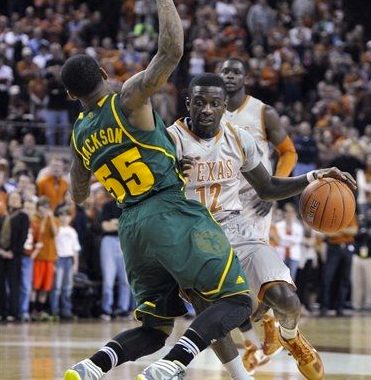 Baylor Bears Squeeze by Texas, Canadians Heslip & Kabongo with strong contributions!
Baylor
Brady Heslip- 12 points (4/5 3P)
Texas 
Myck Kabongo- 12 points, 2 rebounds, 5 assists
With Selection Sunday only twenty days away, the Texas Longhorns came into Monday night's game versus the 14th ranked Baylor Bears in need of a quality win for their tournament resume. Unfortunately, after an abysmal second half where they got outscored 51-36, the resilient Bears offense proved to be just too much as they came away with a 77-72 win.
Burlington's Brady Heslip was a key contributor to Baylor's second half run as he chipped in with 12 points, where he shot a staggering 4/5 from the land beyond, in only twenty-one minutes of play. He has definitely proved his worth this year and has solidified himself as one of the top shooters in the country.
Coming off his first Big 12 player of the week award, Toronto's Myck Kabongo had a solid outing tonight with 12 points, 5 assists, 2 rebounds and a steal. Although it was in a loosing effort, Myck showcased defensive attributes tonight that is not often seen with freshman at this level. Hopefully Texas can regroup and gain some momentum heading into the Big 12 tournament in a few weeks.