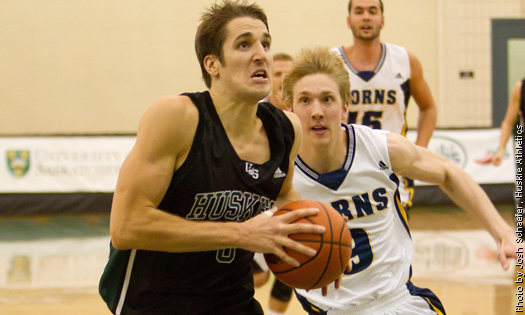 Saskatchewan Huskies are the Hottest Team in Canada West as Playoffs Approach!
PHOTO COURTESY: CANADA WEST
CALGARY,AB–The Saskatchewan Huskies are the hottest team in Canada West after claiming their 8th and 9th straight win over the visiting Manitoba Bisons in Saskatoon last weekend, and they remain at home for a single game vs provincial rivals, the Regina Cougars, this Saturday.
In fact, the Huskies may not play another away game if and until they travel to Halifax for the CIS Nationals.
U of S figures to have the best overall record in Canada West, assuming they can handle Regina in Canada West's final league game of the season, then they will be heavily favoured over Trinity Western in the Quarter-Finals.
In the weekend's other match-up there are lot's of chips on the table for the UVic Vikes and the UBC T-Birds, as they meet on Friday at Ken and Kathy Shields Court in Victoria in the repechage from last week's 68-52 UBC win in Vancouver.
The 'Birds smothered the UVic shooters in that one, and, if they can do it again, they will find themselves in a familiar and comfortable position, in 1st place in the Pacific. If the Vikes can get the war ship back up the fjord, however, then they are capable of clipping the Thunderbirds and seizing 1st, instead of dropping to 3rd.
UBC Thunderbirds at Victoria Vikes – the most relaxed team watching this decisive game will surely be the Fraser Valley Cascades, who have clinched the 2nd spot, and know they will be hosting the Lethbridge Pronghorns in next week's 1st round of the playoffs.
Calgary will be anxious to findout which of the two antagonists they will play in the 1 vs 4 series on the Coast next week, and the Alberta Golden Bears will have the same question as they anticipate the loser on Friday the 24th for the  2-3 series in Edmonton.
Victoria simply has to get some offensive flow against the 'in-your-face' defense of the T-Birds, and the onus will be on point guard Zac Andrus to get the ball to Ryan McKinnon, and on McKinnon to play smart against the anticipated special attention he deserves.
The rest of the Vikes, like Michael Acheampong, Terrell Evans, and Mike Berg have to step into the breach try to get a couple of quarters into the 20s this time around.
26% shooting will not cut it for UVic, and the Victoria defenders have to control Nathan Yu and Kamar Burke, who accounted for 39 of UBC's 68 points last week. UBC will feel comfortable with a similar game-plan as in game 1, as they harassed the Vikes high scorers, and kept them well under their season's averages – McKinnon was 7 less than his 20 pt. average, Acheampong a dismal – 11 points, and Andrus was -2 pts with only 2 assists vs 3 turnovers.
Yu has been the big gun for UBC in 10/17 Canada West games and has gone for 24, 27, and 22 in his last 3 games. Burke has been the muscle as well as the 3rd leading scorer at 11.5 ppg, and he sits 2nd amongst League rebounders at 10.8 rpg.
UBC has more firepower, with Doug Plumb and Tommy Nixon both in double figures as well, and that defense seems to have the measure of UVic.  The 'Birds have won 12 straight in this series dating back to 2007. This looks like a Thunderbird victory party on the return trip to Tsawwassen.
Regina Cougars  at  Saskatchewan Huskies – It was 105-68 Huskies back on November 5 in Regina, as these 2 teams tipped off their 2011-12 season, and anytime you take it on the chin like that from your habitual rival, it definitely sticks in your fur. The problem for Regina is that Saskatchewan is now convinced they are better than anyone else in the League, and certainly better than the 5-14 Cougars.
There's a case to be made for over-confidence on the part of the Sled-Dogs, and the 'Cats may just be so set on avenging the earlier insult that we could have a game. Regina has three bigs who can blunt the considerable inside force of the Huskies; Paul Gareau, Connor Burns, and young Vule Grujic can stand-up for themselves quite nicely.
The real disparity may be at guard, where Jamelle Barrett is in 'go mode', and fully capable of laying waste to any pressure thrown at him, and his supporting cast of Ben Baker, Peter Lomuro, and Duncan Jones (if he comes back from his injury this week) can do some damage as well.
The stats are all leading us to a Saskatchewan repeat in this final game – 15-4 vs 4-15, 88 ppg vs 76 ppg, 73 pts against vs 91 pts., FG% of 50-43, rebounding margin of +10 to -4.  Yikes!
And, it's Senior Night in Saskatoon, with 5th years Jones, Lieffers, Chris Unsworth, and Lomuro wanting to go out with a flourish at the PAC on their special night.
U of S has won 12 straight, with the last Pumas' win being in November of 2006.  Look for a better showing from Regina in this re-match, but it may be too much of a turnaround to expect from this overmatched group against the runaway train that is the Huskies.