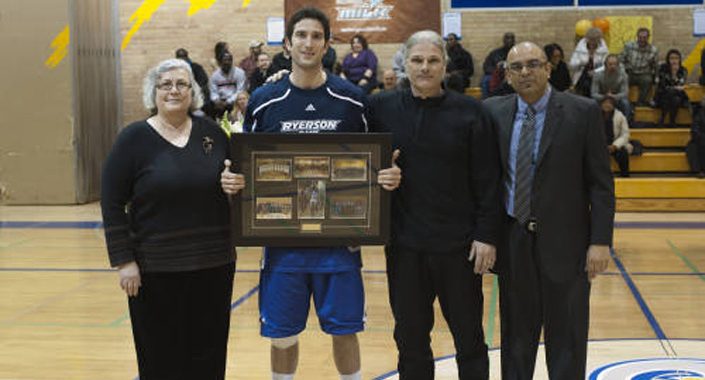 Ryerson Secures Third place after Beating Laurentian!
Follow Charles Blouin-Gascon on Twitter @CeeeBG & NPH @Northpolehoops
TOP PERFORMERS
Laurentian
Isiah Pasquale: 25 points, 4 rebounds, 1 assist, 2 steals
Manny Pasquale: 15 points, 1 rebound, 1 assist
Eric Ducharme: 16 points, 5 rebounds
Ryerson
Photo courtesy of Stephen Kassim
TORONTO, ON-The Ryerson Rams finished their regular season at home on a high, dominating the visiting Laurentian Voyageurs by the score of 100-80.
Ryerson head coach Roy Rana told NPH after the game that, "It's encouraging that we came out in this game with this type of focus and this type of intensity."
For the Rams, this was not only the team's final home game in the Kerr Hall Gym for the regular season, but forward Luke Staniscia's last regular-season game at home of his career.
His head coach was proud afterward. "What a fantastic story," Rana said. "When I first got (to Ryerson), he was a guy who was very limited as a player. I was very hard and demanding on him. Mentally, he's a really tough guy…He's gotten better every year since I got here, he's just a great senior."
Most of all however, this win secured a third-place finish for head coach Roy Rana's team. Once the playoffs start, this could spell the difference between a second-round date with the Ottawa Gee-Gees or with the Carleton Ravens.
But that's looking ahead, and Rana preached caution in the celebration following his team's win. "It feels good to get a win, and it feels good to get 3rd (place)," he said, "but it's not like we're celebrating a world championship or anything like that. It's another step in a long season."
On Saturday evening, the game looked like a track meet early on, as both teams scored at will in the first five minutes of play. Laurentian grabbed a 14-13 lead, but Ryerson responded with a two-pointer from second-year point guard Jahmal Jones. From there, the Rams went on a 30-8 run that carried well into the second quarter. Laurentian's Manny Pasquale answered with 11 points to turn the halftime deficit into a more manageable 54-39 margin.
It's a testament to the resolve of the Voyageurs that the team could still manage 80 points despite the CIS leading scorer only playing 22 minutes. It's not so much that Manny Pasquale got injured or battled foul trouble as much as the fact that he got ejected at the beginning of the third quarter.
Swords thought that the decision was a bit harsh. "He told me what he said, and I still don't think I would have thrown him out," he said. "He's the leading scorer in the country and he's a competitive player… But he's got to learn to hold his tongue a little bit more."
Things got worse before they got better for the Voyageurs when Ryerson to as many as 24 points behind a three-point shot by second-year guard Jordon Gauthier. And yet Laurentian battled back, but another Rams three-pointer, from fourth-year guard Ola Adegboruwa this time, gave Ryerson a 79-64 lead after the third quarter.
From there, Laurentian managed to cut the lead to 11 points three times in the fourth quarter, but the team never got closer. The Voyageurs never could hit the big shot or get the key defensive stop that they needed. Swords said that, "We never really gave ourselves a chance."
And due to Manny's ejection from the game, the Rams needed to contain only one rather than two Pasquale brothers. "We were fortunate that (Manny) put himself in that situation," Rana said, "but we'll take it."
Most of Laurentian's problems were on the defensive side, as the team had no answer for Jones. The point guard broke down the Laurentian defense all game long, either finishing at the rim or passing the ball to his teammates for open shots.
That was the game plan, according to Rana. "Our goal was to attack them on the offensive end," he said. "Jahmal (Jones) was fantastic…It's nice to see a young player rise to the occasion in a big game and produce."
Swords praised the Rams. "We couldn't contain Jones, and that frees up their guys to get wide-open threes," he said. "And Gauthier has hit some shots this year."
Watching Laurentian play, you would think that the team is intent on outscoring its opponents and that it doesn't matter if the opponent scores as long as it happens quickly. Swords told NPH after the game that this isn't by design. "Our defense was just struggling," he said. "We're a pretty good scoring team, but we're not going to outscore teams if we let them score 100 points."
In other words, he would much rather get a defensive stop. "It leads to our transition, where we're effective," Swords said.
In the absence of the younger of the two Pasquale brothers, it fell to Isiah to lead the team offensively-which he did, with 25 points. Only two other Voyageurs scored in double figures, however, second-year forward Eric Ducharme and Manny Pasquale managing 16 and 15 points respectively.
Swords's team hosts the RMC Paladins and York Queen's Gaels next weekend, and will look to secure two wins and secure a fourth-place finish in the division. This would mean a home playoff game against the Toronto Varsity Blues.
For Ryerson, Jones led the Rams with a game-high 25 points to go along with 7 assists, but he had a lot of help. Gauthier (23), rookie Aaron Best (19), second-year Bjorn Michaelsen (13), fourth-year guard Ola Adegboruwa (10) all chipped in with at least 10 points-while Staniscia had his kind of game with 7 points, 7 rebounds, 2 assists and a steal.
Rana's team travels to Ottawa next weekend for games against the Gee-Gees and the Carleton Ravens. "We hope some things can happen and we can get 2nd place," Rana said.
After two away games, the playoffs will start-and for the Rams, and especially Staniscia, this means at least another basketball game at home.
"He does all of the little things for his team to win," Rana said. "He's very important to us."